The Voices
(2015)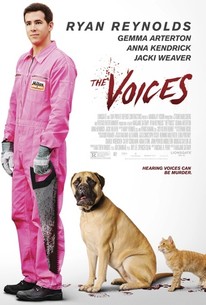 TOMATOMETER
AUDIENCE SCORE
Critic Consensus: The Voices gives Ryan Reynolds an opportunity to deliver a highlight-reel performance -- and offers an off-kilter treat for fans of black comedies.
Movie Info
Jerry is a seemingly normal man trying to succeed in his new job at the Milton Bathtub Factory. He lives in a normal apartment the type you would expect from a young bachelor with his dog, Bosco, and his cat, Mr. Whiskers. Yet something seems off. As the new guy at work, Jerry is asked to help plan the company picnic, and he meets Fiona, an attractive English girl from accounting. Jerry immediately takes a liking to Fiona and excitedly goes home to tell his pets about her. And surprisingly, they answer. But all this is just the beginning of an insanely bizarre and twisted tale.
News & Interviews for The Voices
Critic Reviews for The Voices
Audience Reviews for The Voices
½
Very dark comedy about a psychotic man hearing his animals talk and channeling it in murdering women. The story starts out somewhat light-hearted with the talking cat and all, but gets more gloomy by the minute. While that was the creators' intention, it's hard to enjoy the result. It's too tragic to laugh and to funny to be emotionally invested. It doesn't help that the film ends with a musical performance by the characters, alive and dead.
In 2007, director Marjane Satrapi delivered the autobiographical, coming-of-age animation Persepolis. It garnered her an Oscar nomination, making her the first woman to receive a nomination in the Best animated category. Foreign language films, Chicken with Plums and The Gang of the Jotas followed after but these two films slipped under the radar. Now, though, she tackles the American market with a blackly comic, serial killer tale. Jerry (Ryan Reynolds) is a likeable and charming factory worker who, with the help of his court-appointed psychiatrist (Jacki Weaver), plucks up the courage to ask his co-worker (Gemma Arterton) out on a date. However, when she stands him up, Jerry looks to his household pets for advice and things start to take a much more sinister turn. I suppose I should put my hands up and express my feelings when it comes to Ryan Reynolds. To be honest, I've never been a fan. He's one of those actors that seems to rub me up the wrong way even though he hasn't done anything of particular note that would lead me to feel such disdain towards him. That's exactly why I nearly avoided this film altogether. That said, credit where it's due. Reynolds is absolutely brilliant in The Voices and he plays a huge part in making the film work. He displays a whole myriad of emotions and shows good range in doing so. He plays Jerry like the clean-cut, boy next door but it isn't before long that he shows a nervousness and social dysfunction with sadness and anger eventually culminating into a brooding danger. That's before we even get to the fact that he provides the voices to his pets which add a lot of welcome humour. His dog Bosco is an adorable docile support to him, while his cat, Mr. Whiskers is a malevolent manipulator. At first, it seems that Reynolds doing the voices of the animals is nothing more than a gimmick but there's a moment within the film where the cracks of his character appear and the voices shift from being a gimmick to a being an essential part of the plot. It makes perfect sense and transpires to be a very clever decision. Their voices could have been provided by someone else but the fact that it's Reynolds adds a very important element to the film. Despite the macabre material, though, the film is also genuinely hilarious at times and Satrapi also uses many flamboyant touches to bring a really colourful palette to its darkness. It possesses the type of humour that wouldn't be out of place in the hands of the Coen brothers while also managing to deliver on the more twisted elements that they are known for. This is a film that could quite easily fall prey to being tonally uneven but the script is really sharp and Satrapi's handling of the different tones are near seamless. It's an ambitious gamble from the director but it's one that she manages to pull off. What could have been an inconsistent mess turns out to be a very clever and surprisingly astute depiction of mental health and the psychological motivations behind a disturbed schizophrenic. I have to say, I was taken aback by how good The Voices was. It seems to have gained some traction but, for the most part, this has been a hugely underrated and unappreciated little film that boasts a career best performance from Reynolds. Mark Walker
Mark Walker
Super Reviewer
It is a rare find to see a film that works so (tonally) well trying to be simultaneously hilarious, charming, surreal and gruesome, forcing us to share its character's insanity and the disturbing nuances of his illness and thus becoming a tragic and horrifying experience in the end.
Carlos Magalhães
Super Reviewer
The Voices Quotes
There are no approved quotes yet for this movie.