The Walking Dead
(1936)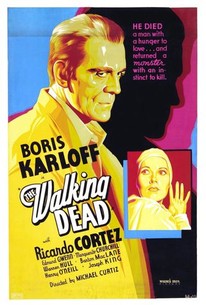 AUDIENCE SCORE
Critic Consensus: No consensus yet.
Movie Info
A reformed criminal is framed and sent to the electric chair, but a scientist uses his corpse as part of his experiments and manages to resurrect him, although only as a vengeance seeking zombie. This was a rare excursion into the horror genre for director Curtis, better known for movies such as Casablanca.
Critic Reviews for The Walking Dead
Audience Reviews for The Walking Dead
Another excellent outing from Boris Karloff. He plays John Elman, a man framed for murder of a judge and then executed before evidence that could free him is discovered. Dr. Beaumont (Edmund Gwenn) has the means to bring Elman back to life through some Dr. Frankenstein-like experiments, and does so. Beaumont begins questioning Elman about what he saw and experienced "on the other side". Elman remembers little of his situation but sets out to avenge his execution against the men responsible. Karloff's character is very much like the Monster he made famous -- even his makeup job is similar, although much less severe. I had the same empathy for him in this film as in Frankenstein. But he could still make the hairs stand up on your neck -- Elman asking each man who framed him in his strange otherworldly lisp "Why did you have me executed?" was creepy as hell, as was Elman wandering through a cemetery saying "I belong here." RIcardo Cortez had his moments as the lawyer/racketeer responsbile for the Elman's framing. And Barton MacLane was..well... Barton MacLane. A first-class piece of filmmaking, courtesy of Michael Curtiz, who went on to direct Casablanca. As good as it is, I dropped a 1/2 star because of the cheezy last line about "our Lord God is a jealous god." Please. Was that really necessary?
Take a gangster film and mix in a little horror, and you get The Walking Dead. Very atmospheric; shot beautifully. They definitely don't make movies like this anymore, nor could they without the excellent skills of Boris Karloff. He plays Elman with such heart, it just lures you in. A shortish film done at just the right pace.
nefnie lee
Super Reviewer
The Walking Dead Quotes
There are no approved quotes yet for this movie.