The Walking Deceased
(2015)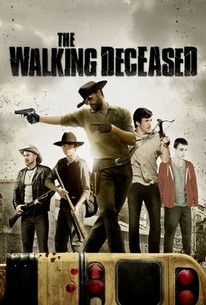 The Walking Deceased Photos
Movie Info
The Walking Deceased is a delightfully bloody addition to the pantheon of zombie-apocalypse spoofs, lampooning every tried and true zombie meme. Join the Sheriff with his son, and a motley crew of survivors as they weather confrontations with zombies, meet up and then leave their tattered camp-a partially destroyed shopping mall. The group journeys to the supposed Safe Haven Rand seeking shelter from the owners, a fascinating and diabolical older couple. Along for the ride with the still-human survivors is a lone zombie who begins to see and develop his human side when he looks up with the brash female leader. The unexpected twists and turns and will delight those who enjoy over-the-top blood spattering while horror movie buffs will appreciate the George Romeroesque touches. (C) Arc Entertainment
News & Interviews for The Walking Deceased
Critic Reviews for The Walking Deceased
Audience Reviews for The Walking Deceased
½
Look, you know as well as I do that this film is no good. This is like watching a 10-minute YouTube parody stretched way past its breaking point, and you can certainly notice when watching the final product. There aren't enough the amount of jokes necessary to justify its running time, there just isn't. And that's not even opinion, honestly, I think that is something that can be stated as a fact. With that out of the way, I think, in a teensy, weensy kind of way, that this film was, somewhat, unfairly brutalized by the professional reviews. Don't get me wrong, this is a bad film all things considered, but it's not nearly as bad as the 2000s were for spoof films with Date Movie, Epic Movie, Meet The Spartans. Those were some truly horrendous films that literally threw everything but the kitchen sink at you and almost all of it sucked or reeked of laziness. While this film shamelessly borrows/steals/whatever you wanna call it from The Walking Dead, obviously, Zombieland, Warm Bodies, among others, there are some bits that are actually pretty inspired and the cast, which isn't bad in the least, certainly makes watching it more bearable than it should be. The key is that I said some and not all of them. The ones that do fall flat, at least one of them, are pretty much beat into the ground. Like everyone saying that Darnell's (Darryl from Walking Dead ripoff) tiny little crossbow was a child's toy and how it was totally ineffective as a weapon. It's a pretty decent little joke the first time they do it. The key there being decent, in that it got a chuckle. When they repeat the same joke ten times in the same film, it kinda wears thin after a while. It's also part of the reason why you can tell that there's not enough material to justify a full-length movie when they go back to the well so often. It's clearly cheaply-made, low-budget fare but, again, some of the bits did actually get some full laughs from me. They're forgettable as shit because I probably couldn't recall any of them right now, but at the moment there were some legitimate laughs, and not chuckles, there. For example, Dave Sheridan, essentially playing Rick, completely mocks Andrew Lincoln's performance as Rick and the way he enunciates Carl's name. Some of that shit was really spot on and it made me laugh Andrew Lincoln, he has a way of completely hamming things up in The Walking Dead. Granted, he did a lot of that in the early seasons. One of his cliches was where every time he'd give a speech and it would come across like it was the most important thing anyone would ever do at any given time. Every speech was like that. He's toned that down, a lot. But yes, sometimes Dave Sheridan's performance in parodying Andrew Lincoln is pretty damn good. To be honest, it's not like this is the cast of Little Miss Sunshine, but they're not all that bad to be honest. There's a certain kind of chemistry among them that is undeniable, at least the way I see it. With that said, this, as I mentioned, wasn't as bad as one would expect going into it. That's not a defense or justifying the film's ultimate shallowness in its material, it's still a bad movie and I wouldn't recommend it. But, for a bad movie, it's actually a pretty fun bad movie to watch. I'm not sure if that makes sense, but it does to me. I wouldn't tell anyone to watch this, but if they must, I think they'll find something to enjoy about its badness. I doubt that makes anything any clearer, but it's bad in a charming way. The gag reel is funnier than the actual movie, so that tells you all you need to know. Wouldn't ever watch this again, but, surprisingly, I don't regret watching it at all.
Jesse Ortega
Super Reviewer
½
A little better than most parody films because of its subtlety but it was really not funny. I laughed for like 2 seconds.
Sylvester Kuo
Super Reviewer
The Walking Deceased Quotes
There are no approved quotes yet for this movie.