The Wanderers
(1979)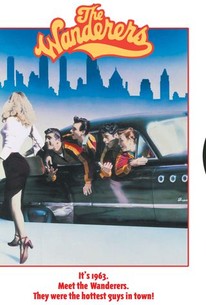 Movie Info
The year 1979 saw an epidemic of American street-gang films, including Phil Kaufman's hit period drama The Wanderers. Set in the Bronx in 1963, the film concerns the titular gang of Italian-American teens and their ongoing power struggle with the rival "Fordham Baldies." Richard Price, upon whose novel this film was based, drew from his own experiences to weave his tale. Essentially a series of anecdotes-some tension-filled, some amusing -- The Wanderers climaxes on the occasion of the J.F.K. assassination, which for Price and hundreds and thousands of his aimless contemporaries served as a wake-up call. Viewed from the vantage point of the 1990s, one would wish that the current street gangs be shocked into adulthood with such suddenness (though not through the same tragic means). Ken Wahl, Karen Allen, and Linda Manz are among the standout performers in this richly detailed period piece. ~ Hal Erickson, Rovi
Critic Reviews for The Wanderers
Audience Reviews for The Wanderers
The Wanderers are as about as much of a gang as the T-Birds from Grease are. They are more or less a bunch of friends who hang out and wear matching jackets. While the film starts out strong, it slowly turns into a very run of the mill teen drama, and then ends with a very ridiculous "gang brawl." The soundtrack however is fantastic!
Ken Stachnik
Super Reviewer
Great film. Both funny and touching. A hidden classic that everyone should see. This film is about my neighborhood (The Bronx, NYC) in 1963. My father was even a student to one of the (real)teachers in this movie. Anyways, it's an excellent film. It's about gangs (not "gangsters" - but street punks), and focuses particularly on "The Wanderers", an Italian gang with a reputation to uphold. They're all stand up guys, not the kind of thugs who rob and kill...they all go to the same high school, they're respectful to the ladies (or atleast try very hard to be), and most importantly they understand the significance of true friendship and loyalty - and whatever they haven't leanred yet, they will along the way. There are, however, a few gangs who are not as peaceful and can be very, very dangerous (mostly the "Ducky Boys" - who are notorious for using weapons in battle). They'll go for the kill without even thinking twice. And their pale as shit too! Even their turf looks like something out of a horror film. Kind of creepy, with their zombie-like ways. They become the biggest threat to the Wanderers, as well as other street gangs. The Wanderers have other rivals too, such as the "Fordham Baldies" (which is based on an actual gang from Fordham Rd, and in reality, weren't actually bald). The Wanderers (who are mostly shit-talkers) fear them and are constantly looking over their shoulders. Things get even worse for the gang when their friend Turkey has a midlife crisis and decides he's better off with the Baldies. Turkey shaves his head, wears the jacket - the whole nine. He feels the Fordham Baldies can provide a better future for him -- as quoted by Turkey when confronted by his friend Joey, "I'm thinking about the future Joey". It's an ignorant state of mind Turkey's in, and like many teenagers, he craves acceptance, but is confused on exactly where it is he fits in. As both stand there arguing, right across from the Baldies, Joey (always the loudmouth) provokes the girlfriend of "Terror" (who is the leader of the Baldies), consequently causing a beef in which a chase ensues through the alleyways of Fordham Rd. The Wanderers are fast, but not that fast. They get cornered by the Baldies from all sides, but just before there is any bloodshed we hear the heroic, deep voice speak the words, "Leave...the kid...alone." There stands Perry - a big and strong Italian boy, new to the neighborhood. After beating the Baldies to a pulp, The Wanderers take Perry under their wing and show him the ropes (this group needs a strong muscle). Perry also enrolls in their high school, in which race is an issue. The students occupy their school days making fun of other races, calling each other names, spitting out racial slurs. Every different nationality has it's own gang - The Wanderers: An all-Italian gang comprising 27 members. They wear bright yellow/brown jackets and blue jeans. Their leader, Richie, is dating Despie Galasso, the daughter of an infamous mobster, so The Wanderers have connections. Richie is also best friends with Joey. Del Bombers: They are the toughest all-black gang in the Bronx. They have 23 members, and are prejudiced against Italians. They wear purple and gold hoodies with "DB" written in Old English lettering on the back. Their leader is Clinton Stitch. - The Del Bombers and The Wanderers are always at each others throats. But it's not so much a deadly threat for they both have an understanding, with safe, specific rules (most importantly, no weapons). It would be a clean fight. Man to man...or more like men to men. Even their confrontation in the classroom at the beginning of the film, when they were battling each other verbally. It seemed like they were having more fun than actually getting angry. You'll be laughing your ass off with them too. That whole classroom scene is fu*king hilarious. Both sides deliver a very comical, genius moment and it doesn't end there. Then you have... The Wongs: As their name suggests, they are all Chinese, and have the last name "Wong". There are 27 members, and every single one of them knows jujutsu. Their leader is Teddy Wong. They wear black hoodies with a hanzi (Chinese character) on the back. They all appear to be quite stealthy as during a meeting in an open field they appear to vanish as the Wanderers momentarily turn their heads. Their motto is "Don't Fuck with the Wongs". They all have dragon tattoos. - Their relationship with The Wanderers is funny as hell too. When The Wanderers have their little meeting in the park the Wongs come off like nocturnal ninja assassins who could dodge bullets and hear a dog fart a mile away in the middle of a thunderstorm. They act like superhumans from a Matrix film. It's hilarious. I'm not sure which race the Baldies fall into. All I know is that they have shaved heads, wear leather jackets with a skull on the back, and seemed to be high school dropouts.
The rest of the movie deals with getting chicks, partying, and street fighting. It's like American Graffiti meets West Side Story. It's warmhearted for the most part, and fun along the way, but it still manages to capture the truth. You'll laugh, you'll cheer, or you may even cry(hey, you never know). And being that it's undertone is about friendship and loyalty, it's a movie I'm sure we can all relate to in some way. -- Solid performances and GREAT soundtrack. But best of all is definitely the final brawl on the football field with the Ducky Boys. Priceless moment! A must see.
jd cryptic
Super Reviewer
very funny and nostalgic film about an Italian-american gang in the early 60s. awesome soundtrack.
Pierluigi Puccini
Super Reviewer
The Wanderers Quotes
| | |
| --- | --- |
| Richie: | Leave the kid alone |
| Richie: | Leave the kid alone. |
| | |
| --- | --- |
| Peewee: | Dont fuck with the baldies |
| Peewee: | Don't fuck with the Baldies. |