The Wasp Woman
(1959)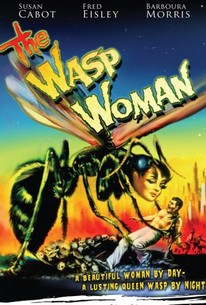 Movie Info
One of schlock horror-meister Roger Corman's favored actresses Susan Cabot stars as the title character, otherwise known as Janet, in this her last feature film for Corman. Janet is the aging but still glamorous head of a cosmetics firm who is looking for a way to improve her visage. Zinthrep (Michael Marks) has come up with yet another of those strange-sounding lotions or cremes designed to enrich the coffers of their manufacturers as the ladies surge to buy them. This time around, an ingredient taken from wasps is substituted for an original ingredient from bees. While the immediate effect is exciting, the subsequent effects are even more so because the miracle lotion turns Janet into a wasp, and a rather well-developed wasp at that. So the poor woman, suffering under the throes of unexpected wasphood, murders a few shocked employees in a rather gruesome manner. Not overly frightening, this film is a typical Roger Corman entry in the horror genre.
Critic Reviews for The Wasp Woman
Audience Reviews for The Wasp Woman
A lonely scientist believes he may have discovered the fountain of youth. A vain cosmetic company owner says, "Forget the testing, let's try it out now!!!" In a Corman film the results are predictable, no? Slow moving, lethargic, snail-like pacing will leave you wishing Corman was attacked by wasps (which, btw, are never shown once in the film, but rather bees, go figure). Pass this stinker by.
Kevin M. Williams
Super Reviewer
½
Taking a break from the Christmas Movies as I await Blockbuster and Netflix to get off there butts and keep the movies coming via the mail. (Economy must be doing well as Netflix is raising there prices). Here we have the 1959 movie by Roger Corman. Its about a women who is head of a cosmetic company and she wants a new product which produces young looking skin, this part is played by Susan Cabot (This was her last movie until 1970 a 11 year gap.), what she finds is a crazy professor who takes the royal jelly from a wasp and thinks he has the product, but oh no something goes wrong as the royal jelly turns Susan into a wasp, Go figure, who would have know. A Black and White drive in Special still worth the watch and 3 1/2 stars.
Bruce Bruce
Super Reviewer
½
This low budget sci-fi horror movie has an interesting story, but that's all that I like about this movie. It's pretty good, but it could have been a lot better.
The Wasp Woman Quotes
There are no approved quotes yet for this movie.