The Way West
(1967)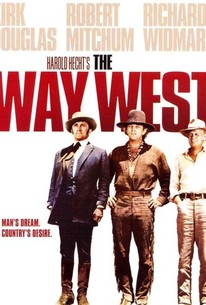 Movie Info
Based on the Pulitzer Prize-winning novel by A. B. Guthrie, Jr., this western follows the adventures and trials of a wagon train, led by Senator William J. Tadlock (Kirk Douglas), traveling along the Oregon Trail.
Critic Reviews for The Way West
Audience Reviews for The Way West
I thought it might be fun to see Mitchum and Douglas reunited twenty years after Out of the Past; I couldn't have been more wrong. The Way West is an overlong, tedious western based on a Pulitzer Prize winning novel, set - like Anthony Mann's infinitely superior Bend of the River - along the Oregon Trail. For all I know, the book may be wonderful, but McLagen's film of it has very little forward momentum. The three stars (Kirk Douglas, Robert Mitchum and Richard Widmark) struggle to find anything to get their teeth into, while the secondary characters - including an impressive Sally Field in her film début - meander through subplot after superfluous subplot. Mitchum's trademark world-weariness is so close to genuine boredom in this picture, I can only assume he spent too much time watching the rushes while making it. Beautiful to look at; a chore to watch.
The Way West Quotes
There are no approved quotes yet for this movie.