The Wendell Baker Story
(2005)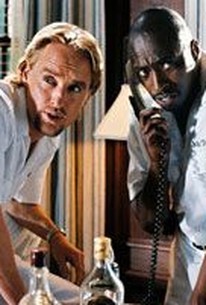 TOMATOMETER
AUDIENCE SCORE
Critic Consensus: The Wendell Baker Story is a lackadaisical comedy of quirky characters and situations, but ultimately the lazy narrative bores instead of charms.
The Wendell Baker Story Photos
Movie Info
Owen, Luke, and Andrew Wilson combine their fraternal filmmaking talents to tell the character-driven tale of a small-time con man who gets a fortuitous shot at redemption while working in a run down retirement community. Wendell Baker (Luke Wilson) is a con man whose large heart betrays his criminal mind. Confident to a fault and consistently cool-headed, Baker is the kind of grifter who's always quick with a comeback and never lets the law get in the way of making a quick buck. When Wendell is busted for selling counterfeit Texas driver's licenses to undocumented Mexican migrant workers, he coasts through his prison sentence with the same unflappable attitude that made him the perfect swindler in the outside world. In order to pass the time behind bars without causing waves, mellow convict Wendell buries his nose in books about hotel management checked out from the prison library. Upon release the optimistic ex-con is distraught to discover his girlfriend Dorren (Eva Mendes) has taken up with a quick-tempered grocer (Will Ferrell) and his former partner Reyes (Jacob Vargas) has been forced into retirement by his law-abiding wife. Looking to put his hotel management know-how to good use and determined to win Doreen back, Wendell soon takes a job at the Shady Grove retirement hotel. Little does Wendell realize that scheming Shady Grove head nurse Neil King (Owen Wilson) has been dabbling in fraudulent Medicare payments and forced labor, and has no qualms about pinning his crimes on the carefree ex-convict. Now, if benevolent knave Wendell has any hope of turning the tables on his unscrupulous nemesis and proving that nice guys don't always finish last, he'll have to enlist the aid of fed-up Shady Grove residents Boyd (Seymour Cassel), Skip (Harry Dean Stanton), and Nasher (Kris Kristofferson), who are all more than willing to strike back at their casually cruel caretaker.
Critic Reviews for The Wendell Baker Story
Audience Reviews for The Wendell Baker Story
Don't get all pissed off cause I am about to say"Wendell..you rock"!~
Joseph Eastmond
Super Reviewer
½
Luke Wilson tried-thats the best I can say-Owen had nothing to do, neither did Eva- and Will did what he could. Eddie Griffin was kind of pointless and even though it looked cheap and straight out of the 90's- I give the other wilson the benefit of the doubt in believeing he wanted it that way. There are a few good quotes worth remembering and Luke does throw himself into the character-I guess I just expected more.
Philip Price
Super Reviewer
Thoroughly amiable effort by the Wilson clan.
William Goss
Super Reviewer
The Wendell Baker Story Quotes
There are no approved quotes yet for this movie.