The Wicker Man
(2006)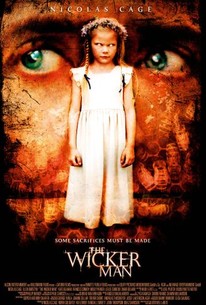 Movie Info
A young child has gone missing and it's up to a haunted but determined policeman to travel to the remote island community where she was last seen and solve the lingering mystery of her disappearance in director Neil LaBute's updated reworking of Anthony Shaffer's 1973 cult horror classic. Upon receiving a letter from his one-time fiancée, Willow (Kate Beahan), imploring him to search for her missing daughter on the secluded island of Summersisle, Policeman Edward Malus (Nicolas Cage) quickly makes his way to the island to locate the girl and seek an answer as to why Willow suddenly and inexplicably disappeared shortly before their wedding date. Once there, Malus is troubled to discover that although there are traces of the child to be found in such locations as the local schoolhouse, the residents of Summersisle seem reluctant to offer any specific details as to the girl's apparent death. His investigation effectively stalled by the highly secretive Wiccan community, Sheriff Malus soon discovers that there are still some cultures that have their own unique beliefs about humankind's relationship with Mother Earth, and refuse to adapt to the rules of modern society. ~ Jason Buchanan, Rovi
News & Interviews for The Wicker Man
Critic Reviews for The Wicker Man
Audience Reviews for The Wicker Man
As a horror film, it fails completely, and I mean completely. However, as a piece of comedy, this film is excellent. For instance, there is a dream-within-a-dream sequence that missed the mark so spectacularly that I burst out laughing in utter shock. Funnier than that however is Nicolas Cage, whose lines 'How'd it get burned?!', 'What's in the bag, a shark or something?' and 'Oh no! Not the bees! Aghhhh!' deserve to be in the AFI Top 100 Quotes, thanks mainly to Cage's, shall we say, 'Cageseque' delivery. The terrific script is laced with unintentionally funny lines, another notable moment being when Cage turns the acquiring of a bicycle into a serious police procedure - *draws gun* "Step away from the bike." Merely quoting these lines here do not do them justice, you have to see it to appreciate it. As you may know, the film's direction was so markedly ill-judged that the aforementioned scenes have now become legendary in the Online community. Cage's battles with the maddeningly brainwashed women of Summersisle are also a joy to watch, as there are no holds barred when things get physical; Cage lays down the law with a combination of thundering punches to the face, kicks to the chest and stern Cagesque shouting, and there are times where he does all of this whilst dressed a grizzly bear. I suspect my enjoyment of the film was significantly compounded by the HD copy that I watched, so I would recommend that, as the filming locations are quite pretty. Overall I think this film is firmly within the 'so bad it's good' category, it's impossible to take it seriously - it really is entertainingly poor.
Jack Hawkins
Super Reviewer
Avoided this film for a long time but finally sat down to watch it so here we go. A detective (Nicolas Cage) goes to Summer's Isle to look for a girl named Rowan at the request of a former girlfriend named Willow. But he is instead met by an island of women who dominate the men and sacrifice girls at an altar of fire to help their crops grow. I enjoyed the acting of Ellen Burstyn (who plays Christopher Lee's role as Summerisle), though I was disappointed in the casting choice. I would have preferred an older horror actress, or even better someone from the original film. Burstyn makes a great matriarchal figure, but doesn't really have the credentials for the role she was cast in. (I should also briefly note Nicholas Cage is not a horror actor... and his acting here is splotchy and uneven, to say the least.) Neil LaBute directs, after being best known for "Nurse Betty". I've read the novella "The Shape of Things" by LaBute, as well, and don't see how LaBute got this project. What about these past projects says "you're the guy to remake an English horror classic"? Here's where the spoilers come in: As a film by itself, the movie was weak, but as a remake it was completely worthless. It was as if you took a great novel written on the college level and gutted it for 10-year olds. But did it in such a way that even the kids' intelligence is insulted. I have four primary concerns. First, the replacement of the pagan religion with the women-dominated society. This sanitized the brilliant dichotomy of Christianity and paganism from the original, getting rid of the most thought provoking aspects. The all female society thing has been overdone (how many times has "Star Trek" done this?). Along with this, the original made Christianity get called into doubt and made the islanders seem innocent. Here, we are confronted by people who outright murder and burn people... so even though Cage comes across as a jerk, the islanders are clear villains. This completely reverses the greatest dimension of the first film. Third, the Willow character is completely stupid and extraneous. In the original, we were given a little piece at a time of the Rowan mystery. This made the film very enjoyable for the viewer. But in the remake, this Willow character shows up at random times to explain the plot to Cage (and us), making most of the mystery shallow or completely removed. And finally, the death of Cage is utterly stupid nonsense. In the original, the detective is a Christian and his faith is tested for a couple days to make sure he is pure for sacrifice. In the new one, there is no purity or any hint of religiousness. All they require is a link to the island. So, my question is this: why did they give him the run-around instead of just knocking him unconscious in the first place? He was not tested, and the lies were pointless... making the entire film utter bull. Can you tell I didn't care for this film? As a piece of entertainment, it serves a purpose. But it's poorly written, not expertly acted... and a great insult to the viewer and the original film. I wouldn't let anyone watch this, not even to compare to the original... it's just not worth the time. Watch the original instead
David Ladd
Super Reviewer
Top Five Reasons to watch The Wicker Man: 1. Nicholas Cage slowly walks up to a woman, never breaking eye contact. He reminded me of Clint Eastwood in The Good, The Bad, and The Ugly. He then knocks her completely unconscious. 2. Nicholas Cage, in a bear costume, clotheslines an old lady. 3. Nicholas Cage karate kicks Leelee Sobieski square in the face. 4. Nicholas Cage screaming, ``Killing me won`t bring back your damn honey!`` 5. Nicholas Cage screaming, ``No! Not the bees!`` Actually, just Youtube The Wicker Man Best Scenes. Someone was kind enough to edit these scenes together. Painfully slow, lifeless acting, and too many unintentionally funny moments to count, this is filmmaking at its most incompetent. I truly mean it when I put this movie right up there with Tommy Wiseau`s The Room as one of the most unintentionally funny movies ever made. And just like The Room, maybe one day The Wicker Man remake will obtain a cult following where people attend, laugh, and just make fun of this horrible piece of celluloid.
Edward Boxler
Super Reviewer
The Wicker Man Quotes
| | |
| --- | --- |
| Edward Malus: | Take of the mask! |
| | |
| --- | --- |
| Edward Malus: | Step away from the bike! |
| | |
| --- | --- |
| Edward Malus: | HOW'D IT GET BURNED? |
| Edward Malus: | How'd it get burned? |
| | |
| --- | --- |
| Edward Malus: | What's in the bag? A shark, or something? |