The Wild
(2006)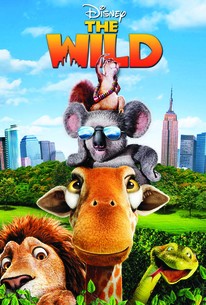 Movie Info
In this wild and outrageous computer-animated comedy-adventure, an odd assortment of animals from the New York Zoo -- including a lion, a giraffe, an anaconda, a koala, and a squirrel -- discover what a jungle the city can be when one of their own is mistakenly shipped to the wild and they embark on a dangerous mission to rescue him. The film boasts an impressive vocal ensemble -- Kiefer Sutherland (as the respected lion leader, Samson), Greg Cipes (as Samson's son, Ryan), Jim Belushi (as Benny, the street savvy squirrel and Samson's best friend), Janeane Garofalo (as a quick-witted giraffe), Richard Kind (as a dim-witted anaconda), William Shatner (as a wicked wildebeest), and Eddie Izzard (as Nigel, an acerbic koala) -- along with cutting edge animation, and a story filled with hilarious situations. Director Steve "Spaz" Williams and producer Clint Goldman helped to revolutionize CG character animation during their long association with ILM, and were responsible for the acclaimed Blockbuster Entertainment commercials featuring Carl the rabbit and Ray the guinea pig.
News & Interviews for The Wild
Critic Reviews for The Wild
Audience Reviews for The Wild
Lets get one thing straight here, this isn't a bad animated film, not really, it just had the HUGE misfortune of coming out after 'Madagascar'. Well I'm not sure whether this came out too late or they did indeed try to rip off the aforementioned film, probably just too late. The plot, settings and entire idea is unfortunately almost identical to 'Madagascar'. A bunch of crazy animals all live together in a zoo lead by the mighty lion Samson. One day Samson accidentally upsets his cub son causing him to run away, get trapped and...you guessed it, get shipped off to Africa. So Samson and the other animals including a Koala, Giraffe, snake and squirrel, all go off on an adventure to rescue Ryan the lion cub. I can't really go into how utterly stupid this is seeing as its a kids film. But alligators in New York's sewers, the fact they all end up in Africa from leaving NY is pretty amazing, no idea where in Africa though but a volcano? And the fact there are hardly any humans around anywhere...including in NY. Yes I know its a silly kiddie film but lets have some degree of sense. One major problem here is the characters aren't too spectacular and AGAIN almost identical to errr that other wildlife animation. The only character that shows any signs of creativity was Nigel the Koala who has a British accent voiced by the brilliant Eddie Izzard. This little guy was pretty neat, Izzard does a great job making him a very nervous, easily scared unfit slightly squiffy fellow who hates the fact his likeness is a famous plush zoo toy souvenir. Its Eddie's dry, wry flat deliveries that make you laugh, well for us Brits anyway. Quite liked the Noo Yawker tawk of the sewer alligators also, that's a good accent. Plus, Patrick Warburton, standard requirement for animated films it seems. Not a problem seeing as his voice is brilliantly funny, lucky huh! Its all completely and totally predictable with visual gags that have been used all before. The animation isn't that bad, a different style to 'Madagascar' with fur effects giving a little more realism, Ryan the cub is undeniably cute. The wildebeests actually look pretty cool I though, quite evil and I liked the little intro animation revolving around them at the start. Shame they chose to include modern pop music within the film but other than that its a fair animation that is fun to watch. Had it come out before that other silly zoo animation then the tables would be turned, but such is life.
Phil Hubbs
Super Reviewer
½
Disneys way of trying to keep up with Dreamworks Madagascar. This was a boring a terrible film.
Jim Careter
Super Reviewer
It's quite simply a rip off of Dreamworks Madagascar, nothing is interesting and the characters are not at all original making this film one of the worst disney have created.
Directors Cat
Super Reviewer
The Wild Quotes
| | |
| --- | --- |
| Larry: | Hey everybody we are going to use the secret play! |
| | |
| --- | --- |
| Nigel: | Who Put that bar there? |
| Nigel: | Who put that bar there? |