The Wild and Wonderful Whites of West Virginia
(2009)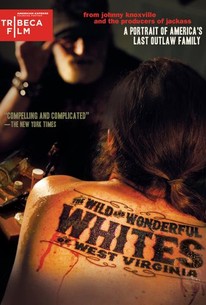 Movie Info
Drop in for a visit with one of West Virginia's most notorious families in this audacious documentary from director Julien Nitzberg and executive producers Johnny Knoxville and Jeff Tremaine. In 1991, Jesco White became a rebel icon with the release of Jacob Young's cult documentary The Dancing Outlaw. Eight years later, young returned with Dancing Outlaw II: Jesco Goes to Hollywood. Then, in 2009, Jesco's story came to the big screen in director Dominic Murphy's award-winning indie biopic White Lightnin'. In this documentary, fans of the charismatic, unpredictable mountain man get to spend some quality time with his kinfolk, and discover just what it is about the Whites that make them one of the most reviled families in all of West Virginia.
Critic Reviews for The Wild and Wonderful Whites of West Virginia
Audience Reviews for The Wild and Wonderful Whites of West Virginia
"A Portrait of America's Last Outlaw Family" The Wild and Wonderful Whites of West Virginia is a documentary that focuses on one family living in Boone County, West Virginia. The family is well-known in West Virginia for being rowdy party-ers that will occasionally do some incredibly crazy shit. Their loved by some in the community, mostly those who have a similar life to them, and hated by many, especially law enforcement. The family has been involved in just about every type of crime you can think of, and for generations at that; and it isn't stopping any time soon.  I liked the documentary because I love seeing true life stories about people who just don't give a fuck, and that explains the White's to a tee. They don't give a fuck. They're going to sell drugs, take drugs, get drunk, tap dance to some mountain music, and if you look at them wrong, you're going to get fucked up. The film takes a look into the life of just about everyone who is still living in the family, and every one of them is just as crazy as the last, yet I still found a good level of respect for them.  Obviously some in the family wouldn't be thrown into this category because of the violent things they have done, but for the most part the family is a bunch of people who love to party and hate authority. Basically they are just living their lives and saying fuck you to anyone that doesn't like it. How can I not respect that? The only problem I see with them is the parenting, but they're just raising them to be outlaws too, so who gives a fuck, right? Overall, this is a decent documentary. I don't believe it was extremely well-made though. I had some problems with the documentary from technical levels, but the story of the White's is too damn compelling to not like. 
Melvin White
Super Reviewer
A total and complete train wreck
Ken Stachnik
Super Reviewer
½
Would be funnier if it weren't so damn sad on many levels. The schadenfreude wears off quick. However, if you can make it to the end, you'll get a faint glimmer of hope.
The Wild and Wonderful Whites of West Virginia Quotes
There are no approved quotes yet for this movie.