The Wind Rises
(2014)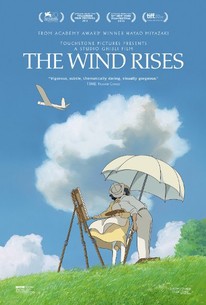 Movie Info
In "The Wind Rises," Jiro dreams of flying and designing beautiful airplanes, inspired by the famous Italian aeronautical designer Caproni. Nearsighted from a young age and unable to be a pilot, Jiro joins a major Japanese engineering company in 1927 and becomes one of the world's most innovative and accomplished airplane designers. -- (C) Studio Ghibli
News & Interviews for The Wind Rises
Critic Reviews for The Wind Rises
Audience Reviews for The Wind Rises
½
Miyazaki's farewell is this lyrical, more adult and very personal project that, though technically splendid and paying an incredible attention to details, may be more appealing to himself as an artist than to most people, with also too many dream scenes that make it feel a bit repetitive.
Carlos Magalhães
Super Reviewer
A aeronautical engineer dreams of building the perfect plane. Slow and meandering, this film's central conflict is more technical than human, more a matter of engineering, an aspect into which the audience has no reference, than universal. While there are some sections in which we get fine interpersonal conflicts, the majority of the film involves Jiro conversing with his dream characters, and there's little to stand in the way of the love plot, thus little source for conflict. Many critics have written about the film's beauty, and I can't see what they're referring to. Many times I thought that the film didn't take advantage of all the creative liberties that animation could allow. Overall, when characters' central conflicts relate to their jobs, the audience must be able to participate in the suspense, and that's not the case with The Wind Rises.
Jim Hunter
Super Reviewer
½
'The Wind Rises'. I'm left feeling like I'm mourning something beautiful. The animation is uniquely magical, with its painted backgrounds, sense of motion and emotion. The sound design is to be noted. Miyazaki's words are pure poetry at times. The romance, up there with the best this year. "Hikoki-Gumo", the song that plays over the end credits, couldn't be any more perfect, sealing the melancholy of the prior 20 minutes right in. Minor pacing issues keep it from being flawless.