The Wizard of Speed and Time
(1989)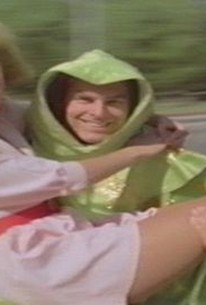 The Wizard of Speed and Time Photos
Movie Info
Mike Jittlov, a master of special effects who's strutted his stuff in several short films, is both the director and star of The Wizard of Speed and Time. Jittlov plays himself, an eager-beaver director who offers a reel of special effects to a TV producer. The director makes a huge bet to the producer that he, Jittlov, can expand his reel into a fantastic feature film. Unfortunately, he's out of money, so Jittlov is obliged, Rocky style, to employ friends and family for his epic. In the picture-within-a-picture, Jittlov plays a second role, as the Wizard of Speed and Time (from the movie of the same name). The producer sends out some hired goons to prevent Jittlov from finishing his job, but our hero--both of him--emerges triumphant. Adding to the Pirandellian quality of The Wizard of Speed and Time is the fact that the avaricious fictional producer is played by the film's real producer, Richard Kaye.
Critic Reviews for The Wizard of Speed and Time
All Critics (5) | Fresh (2) | Rotten (3)
Jittlov's enthusiastic DIY production earned a generation of cult fans...
I doubt very much that any feature could capture the pure delight of the short this is based on, and this particular feature misses that mark by quite a lot.
Audience Reviews for The Wizard of Speed and Time
½
An awesomely made little film, it's fun and visually very cool. I highly recommend it.
Totally magical. Follows Mike Jittlov, aka "The Wizard of Speed and Time", and his film animation career. He runs into many hurdles trying to get his work released by Hollywood. It's such an imaginative and energetic film, which gives hope to any independant filmmaker, and gives us a good idea of what goes on behind the scenes. So much love and talent went into this movie; it needs to come out on DVD yesterday.
Lafe Fredbjornson
Super Reviewer
No one loves this movie and the director more than Mike Jittlov himself. Now let's sing a song about him!
Christopher Brown
Super Reviewer
The Wizard of Speed and Time Quotes
There are no approved quotes yet for this movie.