The Wolverine
(2013)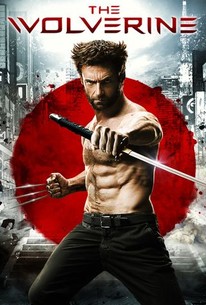 TOMATOMETER
AUDIENCE SCORE
Critic Consensus: Although its final act succumbs to the usual cartoonish antics, The Wolverine is one superhero movie that manages to stay true to the comics while keeping casual viewers entertained.
Movie Info
Hugh Jackman returns as Wolverine in this sequel to the member of the X-Men's first solo outing. Mark Bomback and The Usual Suspects' Christopher McQuarrie penned the script, which takes its inspiration from the Chris Claremont/Frank Miller Marvel miniseries from the 1980s dealing with the character's adventures in Japan as he fights ninjas in the ceremonial garb of the samurai. Knight and Day's James Mangold directs. ~ Jeremy Wheeler, Rovi
News & Interviews for The Wolverine
Critic Reviews for The Wolverine
Audience Reviews for The Wolverine
½
Now Wolverine has a lot of baggage on its shoulders because one, it takes place in unfamiliar territory for the X-men films, and two, it is following the character where when he was alone last time, his movie bombed with critics, the box office, and people alike. But the question does remain, with such a new setting and with how the last film went with Wolverine, is it an improvement or a just as bad as the other Wolverine film? First the acting. Now Hugh Jackman is one of the best Live action casting choices I've seen in a superhero film. Jackman gets the look of Wolverine down perfectly, making him both a badass, but likable at the same time. Jackman does a good job here and they do seem to flesh out the character much more here since this is a continuation of the X-men series after the events of Last Stand so we see him talking to Jean in hallucinations, and he is still a confused man trying to figure things out with his life since disbanding from the X-men. My one problem with a lot of the cast of this film, primarily the males, is that, not to sound racist, but they all look identical to me (Wow that sounds so racist). What I mean by that is, all the male characters in the movie all act the same, and none of the good guys I remember in the film are good guys, that or they are on the neutral side, so it all seems confusing when Logan fights this one guy which seemed essential to the plot, but then he fights this other guy that acts very similar and sounds similar, it just feels like a confusing mess, because I couldn't tell who a lot of the male characters were at times because of this. From who I could make out as a character I think they did well. There is this sort of Asian Hawkeye that's in the film and he does a pretty decent job but they don't use him that much out side of working for the other bad guy out of 5, so I can't say all that much about him. The woman who plays the Viper (Which I don't remember in the X-men comics at all or in any TV show) is not in the movie all that much, which could add to the mystery of this woman, but she is not interesting, and really annoying. She doesn't really have a motive in the film and she is just a bitch, and not in the good way, which I can't stand characters that are like that. Characters that are just there to be evil with knowing nothing about them at all, and has no reason really to be evil that I remember. Alot of the male characters are throw away and not that memorable so I really can't say that much about them at all. The two women in the movie that work with Wolverine are actually all not that bad. Tao Okamoto is pretty decent as Mariko and she does work off of Hugh Jackman fairly well and Rila Fukushima does a very good job as Yukio and does get a few good lines and some pretty badass katana moments in the movie. But overall there really isn't that much I can say about the cast outside of saying its mediocre at best outside of Hugh, Tao, and Rila. Now the action. Another nitpick I do have with the film is that, in a couple scenes where Logan isn't seen as much, the movie becomes mainly martial arts and samurai style fighting with Yukio and it's at times like this where all I can see is a samurai or Kung fu or Martial arts film, and I'm sorry but it really takes me out of the film at points. Now I'm not saying the action isn't good, its fantastic. The choreography is well done, its just as satisfying to see and hear Wolverine impale and slice people as ever, and the end fight with the Silver Samurai is very well done as is the CG on that thing. if you have seen the film or the trailer you may probably know what I think the best action scene in the movie, and if you haven't seen the movie or the trailer, i'll just say, Bullet Train, and I'll leave it at that. *NERD ALERT* My one major gripe about the film is mainly a nitpick since I'm a big X-men fan and I just need to get it out of my system. This is probably the only X-men film to take place in Asia ever again, so might I ask one thing. Why is it that Lady Deathstrike is not the villain? Heres' your one Asian villain outside of the Silver Samurai (Who wasn't a robot in the comics but its a welcome badass change), and a pretty big villain at that, and you leave out Lady Deathstrike. This would've been the perfect opportunity to use Lady Deathstrike as the main villain, and I did read that the villain was a woman when I was first reading about this film, I just didn't read into who it was since I knew the film was going to take place in Asia so I just thought it was going to be either Silver Samurai or Lady Deathstrike, but no they use Viper AKA Madame Hydra who has nothing to do with Asia in the slightest outside of being married to Silver Samurai, which I'm VERY happy they didn't go through with here (if you see the movie you'll get why.) In fact she is the daughter of the Baron Von Strucker, who is the right hand man to the Red Skull, so this would've made so much more sense if they had used her in Captain America 2 Winter Soldier. I know this is me just getting pissed since I'm a big comic book fan and I rarely get mad about these kind of things in Superhero films since I'm usually fine with what DC or Marvel do since they do smart decisions with their films and how they reimagine characters or situations a lot of the time, but here it just annoys me to no end. Okay now that I have that rant out of the way, what do I think of the movie? Now you may think I really don't like this movie and is up there with Origins as one of the worst superhero movies, but no I did thoroughly enjoy sitting through the film. The dialogue for the most part was well written, the CG and action was extremely well done, the acting was good on Jackman and the two girls parts, I like the idea of Wolverine not being basically invincible and can be hurt and even killed, and I like how it does this kind of psychological look into Wolverine with him constantly seeing Jean Grey as somewhat of a conscience. Plus stay to the middle of the credits as always since its a Marvel movie and there's a very interesting set up to the Days of Future Past coming out next year. I'd argue its one of the most entertaining out of the X-men films so I'd say its worth seeing.
Michael Edwards
Super Reviewer
½
The action and fighting scenes are exciting enough to save this movie from being a complete dreck, but even so the script is badly written and with many irritating clichés. At least Hugh Jackman has a magnetic presence that makes it generally entertaining.
Carlos Magalhães
Super Reviewer
So here we have the brand new sixth installment in this rather overdrawn franchise. A sequel to the third in the original trilogy, not really anything to do with the Wolverine origins film, obviously nothing to do with 'First Class' but a prequel of sorts for the upcoming new film 'Days of Future Past'. 'Days of Future Past' of course being a sequel to 'First Class' and 'Last Stand' which is the third in the original trilogy...Jesus Christ!!! So yeah, try and keep that in your head whilst watching these films. So old muttonchops is off to Japan to meet the guy he saved back in WWII. Of course this guy is up to no good with his evil blonde lady scientist sidekick and gives Wolverine an offer he can't refuse...but he does and that upsets the old guys plans. Before he knows it Wolverine is defending himself from Yakuza whilst trying to keep his new love interest (his old Japanese war buddies granddaughter) safe whilst trying to solve the puzzle of why these guys want her and what the evil lady scientist did to him...basically. Amazingly this film is completely grounded and quite realistic, invincibility thing aside. Right up until the main finale the film plays out like a semi serious light thriller in the land of the rising sun that is unbelievably quite sensible, intelligent yet kinda action free! What action we do get is quite sparse but highly intense when it hits, admittedly some of it does go over the top but I gotta keep reminding myself I'm watching a Marvel flick. Naturally the first really big action sequence is on board the Shinkansen (as you all know that is the Bullet train). Now this sequence at first kinda made me laugh somewhat but I did kinda enjoy it, again...remember, its a flick about Wolverine. Felt a bit Mission: Impossible-ish, a bit too silly and I do still wonder how he managed to get back inside the train from the roof at well over 200mph but hey...he's Wolverine. Apart from that there isn't much to shout about until the end and a lovely dark moonlit sword fight with Shingen the son of main bad guy Yashida (wanted more of that with the Silver Samurai), beyond that point things get typically comic book. But for much of the film there is a lot of gritty emotion with Wolverine in angst over Jean Grey, his growing affection for Mariko and all the time thinking about Yashida's offer of a normal mortal life. Jackman IS Wolverine, we know this, the guy just embodies the character so well plus he looks like him too, kinda helps. Most of the Japanese characters are sort of cliched and bland, nothing special really but they are all played well. The bad femme fatale in Viper kinda felt like a badass Poison Ivy to me and not much more, just more vicious. Sure she's hot and dresses in ridiculously sexy attire for no reason at all but she just felt generic, I did prefer her bald though, yeah I'm kinky. There are some gripes with the film I must add, you knew it was coming. Firstly Viper is thrown from a huge height, striking metal on the way and survives, yet gets killed by being strangled?? seems odd to me. They steal an entire idea from Bond classic 'Diamonds are Forever' when the bad guys throw Plenty O'Toole out the window into a pool below and say 'I didn't know there was a pool down there' which Wolverine says. Not really a problem but come on guys, think of you're own stuff. Wolverine cutting himself open and doing DIY heart surgery?? hmmm not sure about that. And finally most of humour is fine but at the beginning when they force Logan to have a wash, shave and haircut, yet he comes out with that totally scruffy yet iconic muttonchop look. He looked more acceptable with the beard, and what is with the chops? is this the 70's? the sequence just didn't make much sense to me and felt forced, desperately grasping for laughs. The biggest drawback for me and something that spoilt the film was of course the Silver Samurai. Now I was expecting a traditional samurai warrior suit on a bloke (Harada) with super powered katana's. What we get is a huge robotic Iron Man type mech suit that looks like something out of 'G.I.Joe' or 'Mortal Kombat', it was just some generic big robot thing rendered in CGI, lame!!!! Why couldn't he have been a normal bloke in a samurai suit doing kickass martial arts, generic still yes, but no CGI. On top of that I was kinda expecting to see this regular Silver Samurai throughout the film fighting with Wolverine in mach 3 kickassery. But all we get is a finale sequence that kinda brings the film down. So yeah the film on the whole is actually a pretty moody and reasonably dark adventure, offering a haunted and distressed Wolverine who lurches around feeling sorry for himself a lot. Seems to be a self contained story (yet you never know) and it does work pretty well, it all feels tight and intense with some nice stylish visuals helped by the Eastern setting. I can't deny my love of Japan and their culture has made me enjoy this film more than I would have, had it been set elsewhere. I mean in all honesty its very formulaic in various places, same slice n dice action and offers nothing new really, how many times can Jackman turn and stare into the camera intensely with glaring eyes before it becomes rather stupid. Its still hokey at times, I didn't like their Silver Samurai approach, he's not even in the film that much and I can't lie the ending ruins the semi serious angle. But its definitely the best Wolverine outing so far (although not much competition) mainly because of its Japan setting, some good Eastern performances (they always come across so intense over there) and great location visuals.
Phil Hubbs
Super Reviewer
The Wolverine Quotes
| | |
| --- | --- |
| Logan: | Go fuck yourself, pretty boy. |
| | |
| --- | --- |
| Yukio: | And then where? |
| Logan: | We'll see. |
| Yukio: | Interesting. |
| | |
| --- | --- |
| Logan: | What are you doing here? |
| Yukio: | I'm your body guard remember. They said the can take us anywhere. Where would you like to go? |
| Logan: | Let's start with up. |
| | |
| --- | --- |
| Mariko: | Please stay. |
| Logan: | I'm sorry, I'm a soldier and I've been hiding for too long. |