The Woman in Black 2 Angel of Death
(2015)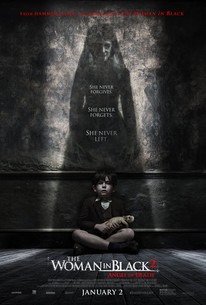 The Woman in Black 2 Angel of Death Photos
Movie Info
When a group of orphaned children are forced to move from their home in London, caretakers Eve (Phoebe Fox) and Jean (Helen McCrory) bring everyone to the desolate and eerie British countryside. 40 years after Arthur Kipps (played by Daniel Radcliffe in the first film, The Woman in Black) left, this supernatural horror film introduces this new group to the now abandoned Eel Marsh House; an odd but seemingly safe location. It isn't long before Eve starts to sense that this house is not what it appears to be as the children in her care begin to disappear. As their house of safety becomes a house of horrors, Eve enlists the help of a handsome pilot (Jeremy Irvine) to help investigate what is happening. Eve soon discovers that it may not be a coincidence that she has come to reside in the house inhabited by the Woman in Black. (C) Relativity
News & Interviews for The Woman in Black 2 Angel of Death
Critic Reviews for The Woman in Black 2 Angel of Death
Audience Reviews for The Woman in Black 2 Angel of Death
Incredibly drab and monotonous, The Woman in Black 2: Angel of Death falls flat, hardly delivering any scares. When a group of children are sent to the Eel Marsh House during the London bombings of World War II the vengeful spirit of Jennet Humpfrye is awakened once again. The acting is rather poor, as is the writing. The characters aren't that interesting, and there's no real suspense or mystery. The Woman in Black 2: Angel of Death is an underwhelming and generic horror film that fails to recapture the terror of the original.
Dann Michalski
Super Reviewer
½
A sequel made for no apparent reason nor with any zeal, Woman in Black 2 is a film the feels helplessly pointless, devoid of scares, story, and any hint of originality. To say Woman in Black 2 is an incoherent film is perhaps an understatement, it's hard to understand what exactly is going on in the film at any point in time, not that we would care anyway. The narrative is a jumbled mess, the motivations of the woman in black are murky, the dynamics of the haunting unclear and what exactly is wanted of the characters is ambiguous. Essentially, the film's narrative structure amounts transporting us to the same location of the first film, filling it with children, and having scattered moments of nonsensical 'scares' and erratic movement followed by dull half-exposition with mediocre acting. It's neither scary nor interesting by any stretch of the imagination. Director Tom Harper does show some skill with his cinematography, the film certainly is atmospheric. But, as the saying goes, there's no there, there. 1.5/5 Stars
Jeffrey Meyers
Super Reviewer
This is what you get when you keep building and building and building and building to something that you then don't pay off on. This isn't a bad movie by any stretch of the imagination, it's actually got great and chilling atmosphere that would have, if the film felt inclined to do so, led to some good scares. That's IF the film felt inclined to do so. For some reason, it just held back on everything. There were bits and pieces here and there, and some jump scares, one of which I'd actually say was pretty good since it wasn't just one and done, they actually built to it by repeating the same scene three times, I believe, in the film before actually springing it on you. If you're gonna do a jump scare then that, at least, is actually a pretty clever way of going about it. Part of the problem was, and this may have just been the setting on my TV, but everything was just too dark too see. It was so bad that I honestly some times couldn't see some of the 'scares', or attempts at them, and I had to rewind the film and squint very hard in order to make out 'oh yea, that's a hand.' Again, I've no idea if it was just that the brightness setting on my TV was too low. I doubt that because I've seen many movies on that TV, different from the TV I usually watch movies on, and I've never had any problems until now, so it may have been the movie. The film itself tries to tell a story and I was simply just not invested, or interested, in it. I think it puts the story above the scares themselves. This is an admirable goal, honestly. Too many horror films rely on cliched tropes and generic characters in order to get their stories across. With that said, I can't say that this film was exactly the most unique of horror stories ever told, but at least it tries. With that said, as I mentioned earlier, it's not like the story itself is actually interesting enough to make you overlook its obvious lack of scares. The Babadook put its own characters and stories above the horror, but, wouldn't you know it, the story actually feeds the horror and adds to it, it doesn't detract from it. It wasn't two completely separate things. Of course the story plays into the horror in this film but it does feel like the left hand doesn't know what the right hand is doing. It just doesn't mix well. I get what they were going for here but it was just a big letdown, particularly when compared to the first movie which was actually pretty damn good all things considered. It didn't have to be a repeat of that, and it wasn't a repeat of that, but it just needed a whole lot more scares and less talking. There's just too much talking here and it is a shame. I was actually kind of looking forward to this film, in spite of the negative reviews, and I just didn't like it. Not terrible but not what I would call a good horror movie. If you want a good scare then you definitely won't get it here.
Jesse Ortega
Super Reviewer
The Woman in Black 2 Angel of Death Quotes
There are no approved quotes yet for this movie.