The Woman Knight of Mirror Lake
(2011)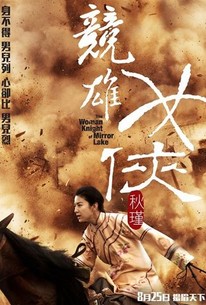 AUDIENCE SCORE
Critic Consensus: No consensus yet.
The Woman Knight of Mirror Lake Photos
Movie Info
Veteran Hong Kong director Herman Yau (The Untold Story, Taxi Hunter) takes the helm for this period adventure about a 19th Century Chinese woman who assumed the identity of a man to fight the oppression of women. A rebellious paramilitary leader and revolutionary poet, Qui Jin uses every weapon at her disposal to battle the tyrannical leaders at a time when women were seen as inferior to men. Shocking authorities and political leaders by donning men's clothes as a symbol of rebellion, she altered the course of history by refusing to admit defeat even when death was imminent.
Critic Reviews for The Woman Knight of Mirror Lake
There are no critic reviews yet for The Woman Knight of Mirror Lake. Keep checking Rotten Tomatoes for updates!
Audience Reviews for The Woman Knight of Mirror Lake
The Woman Knight of Mirror Lake, from Herman Yau, has a story for women to be proud of.
With a 110 minutes to share, this film spends a frequent amount of time jumping around to tell its story. So much so, that it is hard to grasp in the early going; however, as the film progresses it becomes much easier to follow. The time jumps do keep things fresh, especially when revisiting scenes to unveil even more details, but at the same time, it reveals where the picture is going.
The action feels limited, probably because the bulk of it is in the beginning and the end, while the middle focuses more on the dramatic story. The martial arts fights, which includes firearms, are fast-paced and contain great choreography.
Huang Yi has a strong character to work with and she puts on a reliable performance to back it up. Anthony Wong has a very likable character, despite being under-utilized. Dennis To and Xin Xin Xiong provide sound action sequences.
The Woman Knight of Mirror Lake is a solid film all around. The subject matter may not be the height of excitement, but it isn't a sleeper.
½
Another one of those mainland china sponsored "be glad we are not living in feudal china anymore" type of movies. The propaganda is mindnumbing as you would expect, and it's a shame because the movie delivers solid performances and great fight sequences. Is just too hard to care about any of this nationalistic bs.
Tsubaki Sanjuro
Super Reviewer
½
No doubt that I love strong women in movies for either the actress giving a good performance or the characters itself. This movie has everything you could want from a great female protagonist and more. The Woman Knight Of Mirror Lake chronicles the life of Qiu Jin who is regarded as the first female revolutionist in Chinese history and is revered as a national heroine in China today. Now I can't speak for accuracy as I know nothing about Qiu Jin life, but I will say the movie does an effective job of telling her life story. The structure you'll get is the first 30 to 40 minutes of this film is action and then the film goes into dramatic territory, and then last 20 to 30 minutes is martial arts/action. It's a good structure made better by the Qiu Jin character with terrific writing as well. Qiu Jin is represented as a strong, beautiful, smart, caring, fearful, strong, and most importantly a woman who stands for justice and women rights in a over controlling male era. It's truly epic in every sense of the word as it's convey strong emotion from the audience into the revolution these people fought for. The Martial Art and gun-play in this movie are well made and put together. Now often the action scenes do take away some realism away from the movie since it's base on a true story. Which is the only complain from the action scenes and there should enough to please anyone. I enjoyed the cast for putting good effort for bringing these characters to life, especially Huang Yi as Qiu Jin. Not only is she able to make her action scenes look convincing, but she's able to portray this deep character with such grace. The Woman Knight Of Mirror Lake is a great movie with great drama accompanied by great action. It's truly a hidden treasure that must be seen as it has one of greatest heroines ever put on film.
Caesar Mendez
Super Reviewer
The Woman Knight of Mirror Lake Quotes
There are no approved quotes yet for this movie.