The Words
(2012)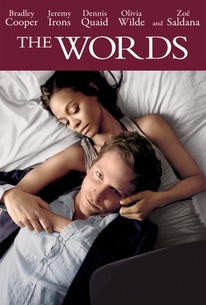 TOMATOMETER
AUDIENCE SCORE
Critic Consensus: Neither as clever nor as interesting as it appears to think it is, The Words maroons its talented stars in an overly complex, dramatically inert literary thriller that's ultimately a poor substitute for a good book.
Movie Info
Starring Bradley Cooper, Jeremy Irons, Dennis Quaid, Olivia Wilde and Zoë Saldana, the layered romantic drama The Words follows young writer Rory Jansen who finally achieves long sought after literary success after publishing the next great American novel. There's only one catch - he didn't write it. As the past comes back to haunt him and his literary star continues to rise, Jansen is forced to confront the steep price that must be paid for stealing another man's work, and for placing ambition and success above life's most fundamental three words. -- (C) CBS Films
News & Interviews for The Words
Critic Reviews for The Words
Audience Reviews for The Words
There is virtually nothing that works in this convoluted, nonsensical and terribly-written drama in which not even the visuals escape the artificial and clichéd, and so everything is a complete failure, from the expository narration to the ridiculous story-within-a-story-within-a-story structure.
Carlos Magalhães
Super Reviewer
The ability to write should be first among the qualifications required to write a movie about a writer... but all through this film, all I could think was, "No one involved with this film has ever written anything!" And the attempt to lean on narration - it's like the book you're reading! - falls completely flat, as it's never quite clear who is supposed to be narrating, or (of course) who would read a book were it this badly written. I'd recommend You Will Meet a Tall Dark Stranger well before this one, which has a similar plot but comes from Woody Allen, who may have written a thing or two before the present movie. I really like the premise, and the talented cast does its best with this disastrous script, but unfortunately The Words is much more about the idea of being a writer than it is a believable story of anything a writer might think/want/do.
Daniel Perry
Super Reviewer
People didn't like this much. Why?..because of the story, inside of a story, and partly inside another story? or because of the ending that left you wondering what was really true? I found this movie mesmerizing. There isn't one bad actor in this, that is for sure. The story was heartbreaking, and intriguing. It was beautifully done, and left me with a feeling of awe. Usually, endings like this one make me really mad. For some reason, this ending seemed to fit the movie...
Cynthia S.
Super Reviewer
The Words Quotes
| | |
| --- | --- |
| Clay Hammond: | You have to choose between life and fiction. The two are very close, but they never actually touch. They're two very, very different things. |
| | |
| --- | --- |
| The Old Man: | We all make difficult choices in life. The hard thing is to live with them. |
| | |
| --- | --- |
| The Old Man: | Was he a writer? (In reference to Hemingway.) |
| The Old Man: | Was he a writer? [in reference to Hemingway] |
| | |
| --- | --- |
| The Old Man: | We all make choices. The hard thing is to live with them, and there ainâ??t nobody that can help you with that. |
| The Old Man: | We all make choices. The hard thing is to live with them, and there ain't nobody that can help you with that. |