The Wrestler
(2008)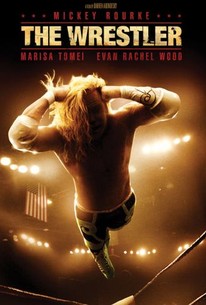 TOMATOMETER
AUDIENCE SCORE
Critic Consensus: Mickey Rourke gives a performance for the ages in The Wrestler, a richly affecting, heart-wrenching yet ultimately rewarding drama.
Movie Info
Back in the late '80s, Randy "The Ram" Robinson was a headlining professional wrestler. Now, 20 years later, he ekes out a living performing for handfuls of diehard wrestling fans in high school gyms and community centers around New Jersey. Estranged from his daughter and unable to sustain any real relationships, Randy lives for the thrill of the show and the adoration of his fans. However, a heart attack forces him into retirement. As his sense of identity starts to slip away, he begins to evaluate the state of his life--trying to reconnect with his daughter, and striking up a blossoming romance with an exotic dancer who is ready to start a new life. Yet, all this cannot compare to the allure of the ring and passion for his art, which threatens to pull Randy "The Ram" back into his world of wrestling.
News & Interviews for The Wrestler
Critic Reviews for The Wrestler
Audience Reviews for The Wrestler
Possibly the most beautifully filmed work I have seen---the cinematography is absolutely gorgeous. Mickey Rourke and Marisa Tomei are excellent--they give flawless performances. Aronofsky redeems himself after the failure that was The Fountain with a raw, captivating story that foreshadows his 2010 masterpiece Black Swan. The Wrestler is at times beautiful, at times disheartening, and at other times--as in the style of Aronofsky--thrilling and disillusioned in its portrayal of the destruction of the human spirit. In the end, The Wrestler is a film that must be experienced, one that captured my heart. I can honestly say that I loved it--every moment.
Matthew Samuel Mirliani
Super Reviewer
½
20 years after his hay day, Randy "The Ram" is still trying to nurse his broken body through the independent wrestling circuit when he suffers a heart attack that threatens his career. Maybe because it's because I'm English, or maybe because I don't have wheels on my home, I approached this film with a certain trepidation because I have absolutely no interest in wrestling, or sports movies in general.The plot is very much in the same vein as one of the million+ corny true life TV movies out there, but I must admit this film did win me over, basically for Mickey Rourke's incredibly honest performance for which he obviously drew on his own experiences as a professional boxer. It is the anti-sports movie, where instead of a small town guy making good, it is the story of a man who begins at the top and slowly descends into obscurity. It's a film about the effects of age, as his own failing body and mind gradually strips him of everything that made him feel special and worthy. For this reason, I think younger audiences may find it difficult to relate to the character, but Rourke is quite brilliant and if you like your 80s cock rock, you'll be in hair metal heaven.
Mickey Rourke's Wrestler performance is already one of the outstanding, iconic acting jobs of the last few decades, one of the most convincing acting jobs I've ever seen. It actually made me feel like watching a documentary at times, forgetting I am watching Rourke play a role. Aronofsky's directing and the camera work adds to that impression. We often follow the character through his locations, getting a very real feeling of the surroundings. While there are a few interesting looks behind the curtain of pro wrestling, that's not really what this film is about. It's a close look at a man struggling in life, being no longer able to do what he likes to do best. The fact that he is a decent human being, deserves respect and treats others likewise doesn't make his failing easier to watch. The realistic feeling and the outstanding acting performances still make us watch and care. Thankfully, the ending is somewhat open and does not offer the most obvious solution. Impressing, sad and touching.
The Wrestler Quotes
| | |
| --- | --- |
| Randy "The Ram" Robinson: | I used to try to pretend that you didn't exist, but I can't. You're my girl. You're my little girl. And now, I'm an old broken down piece of meat... and I'm alone. And I deserve to be all alone. I just don't want you to hate me. |
| Randy "The Ram" Robinson: | Bet'chr ass man, Guns N' Roses! Rules |
| Randy "The Ram" Robinson: | Then that Cobain pussy had to come around & ruin it all. |
| Randy "The Ram" Robinson: | As times goes by, as times goes by, they say "he's washed up", "he's finished" , "he's a loser", "he's all through". You know what? The only one that's going to tell me when I'm through doing my thing is you people here. |
| Randy "The Ram" Robinson: | As times goes by, as times goes by, they say 'he's washed up', 'he's finished', 'he's a loser', 'he's all through'. You know what? The only one that's going to tell me when I'm through doing my thing is you people here. |
| Randy "The Ram" Robinson: | Hey lady - you want some fucking cheese? Get your own fucking cheese! |