The Yakuza
(1975)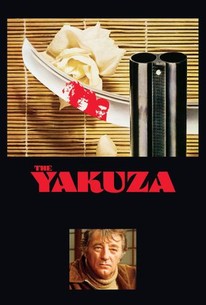 Movie Info
Between making They Way We Were and Three Days of The Condor, Sydney Pollack directed this little-seen thriller from a script by Paul Schrader and Robert Towne. The Yakuza stars Robert Mitchum as Harry Kilmer, a former soldier who returns to Japan to help rescue the daughter of his friend George Tanner (Brian Keith). Once he arrives in the country, Kilmer discovers that the daughter has been kidnapped by the Japanese mafia, called the Yakuza. In order to battle the ruthless organized crime outfit and save the girl, Kilmer finds himself left with few options and reluctantly enlists the help of his old nemesis, Tanaka (Ken Takakura). The film was later re-titled The Brotherhood of the Yakuza and was originally shown in a 123-minute cut.
Critic Reviews for The Yakuza
Audience Reviews for The Yakuza
"When an American cracks up, he opens up the window and shoots up a bunch of strangers. When a Japanese cracks up, he closes the window and kills himself. Everything is in reverse." Not quite as wonderful as The Friends of Eddie Coyle, this is still a pretty great late Mitchum movie, and as an example of mid-Seventies Hollywood flirting with the Far East, The Yakuza is certainly better than Peckinpah's The Killer Elite. By modern standards the film is so slow-moving it barely qualifies as a thriller, though the funereal pacing is very deliberate, emphasising the dignity of the characters, maximising the tension and making the sudden, cathartic eruptions of violence all the more startling. The whole movie is brilliantly shot and edited, not just the splendid fight scenes, with Pollack cleverly cutting through much of the script's wordy exposition by carrying the dialogue of one scene over into the next. Among the interesting credits, the script was written by Leonard and Paul Schrader, with rewrites by Robert Towne; Robert Aldrich was originally slated to direct but Mitchum had him replaced by Pollack; and Mitchum's love interest is played by Keiko Kishi, who played the 'Woman in the Snow' in Kobayashi's Kwaidan.
My 2nd favorite Schrader script, my 2nd favorite Robert Towne script and my 2nd favorite Sydney Pollack film.
Ken Stachnik
Super Reviewer
An american meets the dark and violent japanese underworld. an ode to friendship, honor codes and sacrifice among far east gangsters.
Pierluigi Puccini
Super Reviewer
The Yakuza Quotes
There are no approved quotes yet for this movie.