Theater of Blood (Theatre of Blood) (Much Ado About Murder)
(1973)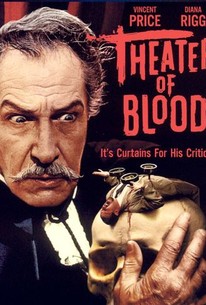 Movie Info
A Shakespearean actor becomes enraged after losing a prominent acting award and decides to seek revenge on the critics responsible, and he does so using the works of the Bard as a guide, basing his killings on violent scenes from Shakespearean plays.
Critic Reviews for Theater of Blood (Theatre of Blood) (Much Ado About Murder)
Audience Reviews for Theater of Blood (Theatre of Blood) (Much Ado About Murder)
½
Vincent Price's best in my opinion.
Curtis Lilly
Super Reviewer
½
Much like the Shakespearean plays that feature so heavily in the film, Theatre of Blood is packed with tragedy, melodrama, violence and oodles of black humour. Vincent Price plays Edward Lionheart, an actor with a grudge against a circle of critics he believes singled him out for scathing notices on his season of Shakespeare plays. Believed to be dead, having thrown himself from a high balcony into the Thames, the actually very alive Lionheart wreaks revenge with the help of a strange hippy and a bunch of meths drinking bums. Director Douglas Hickox brilliantly blends comedy and horror to deliver one of the finest horror movies of the 70s and, as far as I am concerned, the best Vincent Price vehicle of all time. Price is fantastic as the crazed actor out to silence his critics forever and wastes no opportunity to camp up his performance to the max, and he is ably supported by an outstanding cast featuring many names and faces that will be familiar to fans of British cinema and TV: Ian Hendry, Arthur Lowe, Michael Hordern, Robert Morley, and Dennis Price appear as critics; Milo O'Shea and Eric Sykes are the coppers out to catch the murderous thespian; and Diana Rigg and Madeline Smith provide the eye candy (Diana Dors too, if you like your women with a fuller figure). Despite being blessed with a witty script, brilliant direction and an unbelievably good cast, it is the inventive death scenes that will probably stick in most viewer's minds the most: each murder is inspired by a different Shakespeare play and this gives the makers of the film ample opportunity to splash a bit of blood across the screen. Arthur Lowe's decapitation is a particularly nasty moment (made easier to stomach by Price's wonderful tongue-in-cheek performance) whilst the poodle-pie sequence is gloriously sick and totally unforgettable. And whilst it is true that there are a few moments which the truly pedantic might pick fault with, the film is so enjoyable that I have no hesitation in awarding Theatre of Blood full marks.
Cassandra Maples
Super Reviewer
I loved this movie, it's one of my favourite Price flicks. His character is fantastic, the story is great, and it's even got a tinge of comedy. I love it, and I highly recommend it.
Theater of Blood (Theatre of Blood) (Much Ado About Murder) Quotes
| | |
| --- | --- |
| Edward Lionheart: | Hark, villain! I shall grind your bones to dust and make two pasties from your shameful head... |
| | |
| --- | --- |
| Edward Lionheart: | Alas...he didn't have the stomach for it... |
| Edward Lionheart: | Alas... he didn't have the stomach for it. |