Their Own Desire
(1929)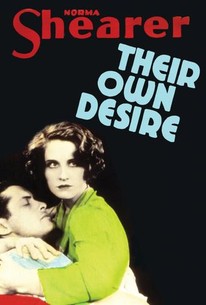 AUDIENCE SCORE
Critic Consensus: No consensus yet.
Movie Info
This stagebound early talkie stars Norma Shearer as a wealthy young woman in love with wealthy young man Robert Montgomery. These wealthy young folk have wealthy older widowed parents, played by Lewis Stone (Shearer's father) and Helene Millard (Montgomery's mother). The wealthy older people also fall in love with each other, complicating the affairs of the wealthy younger people. Isn't anyone in an MGM movie ever poor besides Wallace Beery (who isn't in this one)? Norma Shearer personally selected Robert Montgomery as her leading man in Their Own Desire; the box office success of this pairing encouraged the rest of MGM's acting crop to call upon Montgomery early and often.
Critic Reviews for Their Own Desire
There are no critic reviews yet for Their Own Desire. Keep checking Rotten Tomatoes for updates!
Audience Reviews for Their Own Desire
The plot is pretty simple and this 65 minute film is in general pretty average, with one exception - Norma Shearer, who is so charming I rounded my review score up a bit. She's the epitome of the 1920's flapper - playful, adventurous, and in control of her own destiny. She's also smart, sexy in a natural way, and has an infectious laugh - truly a delight to watch. She plays the spunky daughter of a couple who divorce, and later finds herself unknowingly falling in love with Robert Montgomery, the son of her father's new wife, setting up inner conflict. I love how we see her character playing polo, diving from a high board, and canoeing in a storm - and also how we see her romantic, and in control of how far she wants to take things. She occasionally overacts but is so natural and spontaneous otherwise that I'm not surprised she was nominated for an Oscar for her performance.
Antonius Block
Super Reviewer
½
I potentially did not appreciate this film due to the terrible quality of the copy that I saw. I have liked Shearer in other roles but couldn't adequately get into this one.
John Ballantine
Super Reviewer
Clunky, episodic early talkie is a good example of the rough edges that film went through in the transition from silent to sound. Most of the performers were silent stars and are obviously still adjusting their performing style to the different requirement of the microphone. Norma, who was inexplicably nominated for an Oscar for this overemphatic performance, is best in her speechless moments and Robert Montgomery, one of the few actors not moving from silence to sound but still new to films is awkward and overly fond of practically being on top of the other person in his scenes. The great silent star Belle Bennett, rather preposterously cast as Norma's mother they were only eleven years apart in age, is effective though some of her gestures also hark back to a more silent form of pantomime. The movie overall works best in those passages where dialogue isn't required. There is a lovely dancing scene that flows far more smoothly than any other in the film.
Their Own Desire Quotes
There are no approved quotes yet for this movie.