Them Thar Hills
(1934)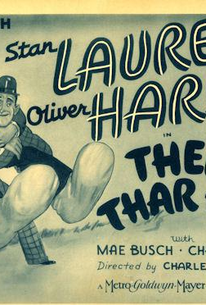 AUDIENCE SCORE
Critic Consensus: No consensus yet.
Movie Info
This Stan Laurel and Oliver Hardy short was so successful that it inspired a sequel -- Tit for Tat -- and it's still one of the comic duo's best films. After Ollie comes down with the gout, a doctor (Billy Gilbert) recommends that he quit his high living and take a vacation in the country. Ollie suggests he and Stan rent a trailer and they're on their way. They stop by a cabin which was recently abandoned by a group of moonshiners, who had to dump their brew into the well when they were raided by revenuers. Blissfully unaware of this, Ollie and Stan proceed to drink as much of the stuff as they can -- after all, the doctor extolled the benefits of mountain water. The two of them are having a meal of beans and coffee ("You sure know how to plan a meal," Stan tells Ollie approvingly) when they are interrupted by a husband (Charlie Hall) and wife (Mae Busch) whose car has run out of gas. While the husband is off filling up the car, the wife has some of the refreshing "mountain water." When her irascible spouse gets back, she is thoroughly soused and he is thoroughly angry. A battle between the husband and the boys follows, with much mutual destruction -- Charlie winds up with beans down his pants, and wearing molasses and feathers, while the trailer goes crashing and Ollie winds up with a hot seat, courtesy of some lamp oil and a match (which the husband has borrowed from Stan). To extinguish the fire, Stan suggests that Ollie jump in the well -- the result is an explosion that lands him in the ground, head first and legs flailing wildly.
Critic Reviews for Them Thar Hills
There are no critic reviews yet for Them Thar Hills. Keep checking Rotten Tomatoes for updates!
Audience Reviews
There are no featured reviews for Them Thar Hills at this time.
Them Thar Hills Quotes
There are no approved quotes yet for this movie.