Themroc
(1973)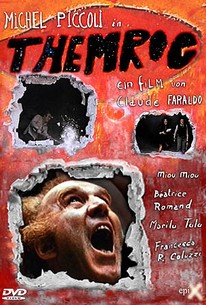 AUDIENCE SCORE
Critic Consensus: No consensus yet.
Movie Info
This extraordinary romp uses no language whatever, except gestures and grunts. When a salt crystal is dropped into a solution of water that contains all the salt it can handle, something extraordinary happens: the swift formation of large crystals of salt from the apparently clear water. When Themroc (Michel Piccoli) rebels against the dull conformity of his life with flamboyant anarchistic splendor, the whole world quickly goes howling mad. His day starts, as usual, when his mother more-or-less drags him out of bed and kicks him out the door to go to his factory job, which supports them all. At the factory, when he is called onto the carpet, he quits (but not before fondling the boss's secretary). Back at home, he makes love to his sister and then transforms the family's apartment into a more primitive abode. The conditions of the stone-age quickly return. ~ Clarke Fountain, Rovi
Critic Reviews for Themroc
There are no critic reviews yet for Themroc. Keep checking Rotten Tomatoes for updates!
Audience Reviews for Themroc
Surreal, allegorical and truly bizarre, "Themroc" is a film in which no intelligible words are spoken. Plenty of grunts, howls, barks and shouts, but no real "dialogue" in the usual sense. A fifty-ish man (Michel Piccoli) drops out of the daily grind, and adopts the life of a barbaric primitive. He converts his second-floor apartment into a cave with a view, blocking off the doors, destroying the outer wall and happily tossing all his belongings to the ground below. He picks up a couple of cavegirl converts along the way, and gradually begins to win over his whole neighborhood. Better luck next time, civilization! "Themroc" seems nonsensical at first, but turns more watchable once its thematic thrust becomes clear. Still, the film is longer than it needs to be, and some folks will find it as interesting as (ahem) watching cement dry. It's a must-see for cannibalism fans, however.
Eric Broome
Super Reviewer
Subversive and bizarre anarchist fantasy where incest, murder, cannibalism, among other ways to break free are instructed by a construction worker who gets tired of his aimless and repetitive existence, and the repression exercised by authorities. That once shy and submissive man is now the leader of some kind of urban cavemen community that only seek to give and receive the most primitive forms of pleasure. There's no dialogue whatsoever, only a series of grunts, yells and gurgles without sense; that serve to establish even more the meaning of disorder inherent in the plot.
Pierluigi Puccini
Super Reviewer
Themroc Quotes
There are no approved quotes yet for this movie.