There Was a Crooked Man
(1970)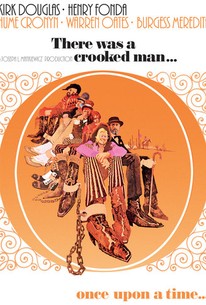 There Was a Crooked Man Photos
Movie Info
A typically adventurous work from producer/director Joseph L. Mankiewicz, There Was a Crooked Man casts Kirk Douglas as the brains of a gang of frontier desperadoes. Arrested in a brothel after holding up merchant Arthur O'Connell, Douglas is carted off to territorial prison, where he quickly establishes himself as the lord of the flies. Idealistic new warden Henry Fonda vows to improve morale and living conditions in the prison, and to that end enlists the aid of Douglas, who pretends to be the warden's toady. In fact, Douglas is plotting a prison break along with Warren Oates, who'd previously crippled Fonda in a shoot out, and homosexual cellmates Hume Cronyn and Burgess Meredith. There's many a surprise and double-cross in store for all concerned before the wryly cynical finale. There Was a Crooked Man was co-scripted by David Newman and Robert Benton, who manage to inject a great deal of historical accuracy into their fictional yarn.
Critic Reviews for There Was a Crooked Man
Audience Reviews for There Was a Crooked Man
½
I suspect that the writers and the director (Joseph Mankiewicz) would be better suited for comedic endeavors than serious, dramatic westerns. This is one picture that is far too light-hearted to be taken seriously. Even the violence, and there is lots of it, seems slapstick and frivolous. It's a shame that such a great cast was wasted on shallow, forgettable material.
Randy Tippy
Super Reviewer
There Was a Crooked Man Quotes
There are no approved quotes yet for this movie.