There's Always Tomorrow
(1956)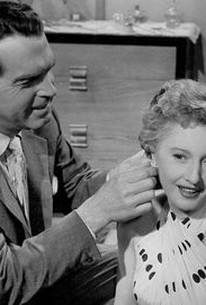 There's Always Tomorrow Photos
Movie Info
There's Always Tomorrow is a remake of a 1934 film of the same name. Fred MacMurray is a toy company executive whose wife (Joan Bennett) and kids (Gigi Perreau, William Reynolds and Judy Nugent) take him for granted. Barbara Stanwyck is Fred's former girlfriend, whose own business activities result in a surprise reunion. MacMurray falls back in love with Stanwyck and prepares to leave his family. MacMurray's children go to Stanwyck and politely ask her to back off. She does so, and MacMurray's wife Bennett, who's been out of town during all this, is none the wiser. In the original There's Always Tomorrow, the male and female leads (Frank Morgan and Binnie Barnes) were farther apart age-wise, making their brief encounter all the more poignant.
Critic Reviews for There's Always Tomorrow
Audience Reviews for There's Always Tomorrow
Stylish drama acted expertly by super professionals. The powerful duo of Stanwyck and MacMurray excel when paired together and this is a fine example of that. Sadly this film is somewhat obscure.A shame since it really does examine in simple terms the crisis a man faces when he realizes he has fallen into a rut without being aware of it. Another winner from Sirk and perhaps even better then some of his better known films, which are certainly enjoyable if sometimes over the top and a little lurid, since the drama is muted and closer to real life.
There's Always Tomorrow Quotes
There are no approved quotes yet for this movie.