These Three
(1936)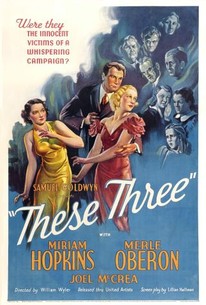 Movie Info
In this film, lifelong friends Martha Dobie and Karen Wright manage an exclusive girl's boarding school. Student Mary Tilford spreads a rumor that Martha has been carrying on an illicit affair with doctor Joseph Cardin, the boyfriend of Karen.
Critic Reviews for These Three
Audience Reviews for These Three
½
this movie is adapted from a script called children's hour, which deals with suppressed lesbianism, again adapted into a movie of the same name in 60s with audrey hepburn and shirley maclaine. both adaptions are all helmed by william wyler. the 1930s version down-plays the lesbian part by granting it a happy ending. supposedly, it should flop for avoiding the crucial parts of original script, but contrarily it surpasses the original script and the 60s version where shirley maclaine confesses her love for audrey hepburn then hangs herself out of severe guilt. so what makes the 30s version superior? the answer is simple: suppressed/sublimated desire is quite often more penetrating than laid-bare passion. it's one of those heart-aching story about closet lesbianism. two educated women hold a boarding school for young girls. then one of their young girls starts a rumour that these two teachers are lesbians just to revenge teachers' punishment. so the school disintegrates due to the homophobic protest from the parents. in the end, the truth is revelt but these two women's career is destroyed and one of the teachers' marriage engagement gets blown off. the biggest turning point would be, at the last moment, one woman confesses her guilty secret to the other (the one whose marriage engagement got cancelled) that she has loved her ever since the first time she laid eyes on her, but she never dares to tell her. for that, she feels she deserves to be condemned for having had such trespassive desire toward her. so the closet lesbo hangs herself to death and her friend just departs quietly. that is the storyline of original play. 1936 is after the hays code. "these three" had to be heterosexualized. but oddly, this decision has made the movie even more lesbianistic. the scandal is substituted with one of the teachers is having an affair with the other teacher's fiancee. and the forbideen guilty secret is she falls in love with her best frtend's fiancee at first sight but she keeps it to herself. at last, the woman just walks off the scene quietly and persuade the man to chase her friend back. then why it's even more lesbianistic??? can't you see or comprehend the subtlety within that woman's mind? she concedes the man she loves to her friend and she's even willing to do the thing, which is opposite to her own benefit, that is persuading the man she loves into returning back to her friend. her friend is literally the priority of her every choice! what drives a person into such altruism? there must be some love that transcends all within her. the movie maintains a gay (happy) picture by having man and woman embrace passionately in public cafe, lovers' joyful reunion. but the audience might ignore one thing, or they're reluctant to recognize, that however he loves her or claims that he loves her, he could never love her more than her friend does! there's a term called homosociality, that means two same-sex people feel great attraction and love for each other but they avoid consummating the passion into the realm of carnal pleasure. that happens all the time in the army (the most homophobic place ever!), but army men just fiercely love each other. in one way, army men could be the "gayest" ever. in a brief, sex makes all the difference. during adolescence, young girls all like to hang out with the prettiest girl in class, ain't it also a sign of hidden homosexual attraction under the surface of homosociality? in order to sustain the perfect vision of socialized self-image, most girls choose to hate the prettiest girl as a last resistance of their straight identity. but sometimes, animosity has great deal to do with sex antagonism. to grow up as a "normal" heterosexual woman is to shed off that awestruck admiration for the pretty classmate by choosing to loathe her instead. if you cannot have her, just ruin her, at least within your mind. (don't you think that scenario common in high-school satires?)
Veronique Kwak
Super Reviewer
These Three Quotes
There are no approved quotes yet for this movie.