Thesis
(1996)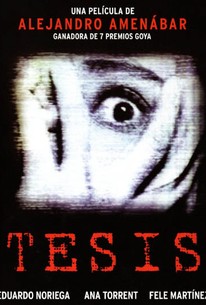 Movie Info
In this suspenseful Spanish thriller, a film student's curiosity over an accidentally discovered "snuff film" places her in mortal danger. Madrid film student Angela's ordeal begins when she decides to write her thesis about violence in film. Her student adviser volunteers to search the university's film vault for her and it is he who accidentally finds a secret room and randomly picks up an unmarked cassette. He decides to preview it in the screening room and what he sees is so horrifying that he drops dead from heart failure. Angela finds him there and without thinking grabs the film he was watching. Back home she discovers it is a filmed account of the torture and death of a coed who has been missing for three years. Rather than be sensible and call the police, Angela begins her own investigation. Her first stop is the strange Chema, a student aficionado of hard-core porn and violent films. He sees the film and is able to identify the type of camera used. Sexy student Bosco has one and he was acquainted with the dead girl. Though he is a prime suspect, Angela is subtly drawn to him. This doesn't sit well with the jealous Chema. Bosco is not her only suspect. Castro, her new faculty advisor and Bosco's girl friend Yolanda may also have been involved.
Critic Reviews for Thesis
Audience Reviews for Thesis
Amenábar's low-budget debut stands out as the first display of his talent as both a writer and director, a suffocating thriller that is not only extremely tense and suspenseful but also respects the viewer's intelligence and keeps us always engaged.
Carlos Magalhães
Super Reviewer
First 48 Minutes were so bad, I threw it back in the mail to Netflix. 1 star 7-16-2013
Bruce Bruce
Super Reviewer
½
I can understand why this brought Alejandro Amenabar to a fruitful career, but I really just thought this was a serviceable, brainless thriller. The one thing that irked me most is that Angela is simply one of the dumbest horror protagonists I've ever seen. She is vacant, unresourceful and a God-awful liar. For one, she NEVER calls the police, despite being embroiled in a steadily worsening snuff film situation; she has no compelling reason not to do so. None. When confronted by people who are suspicious of her snooping around, she stutters and says "no" a lot, or just repeats what they're saying to her. She has about two good ideas through the entire course of the film and it's kind of amazing that she even pulls these off. We are led to believe that Angela is an intelligent girl, but she shows us almost none of this, making one awful decision after the other. Angela's indiscretions serve to highlight some flaws in the plot - again, why does no one call the police? Why are the killers keeping their video tapes in the basement of the school, and how come so many people have access to this basement when security is presumably patrolling it? And ultimately, what compels Angela to try and solve this case herself? All we know is that she has a cursory interest in (though supposed disdain for) violence, but that offers no real reason for her not to get anyone else involved. This is a technically strong film with a decent message, though "obsession with violence in the media" is really old-hat by now. It's a far better delivery of the theme than Funny Games, I have to say it, and I'm sure it hit harder back in 1996. I guess this aged in a way that Se7en did; sensational pictures rarely seem to last very long.
Drew Smith
Super Reviewer
Thesis Quotes
| | |
| --- | --- |
| Angela: | Me llamo Angela, me van a matar. |
| Angela: | Me llamo Ã?ngela. Me van a matar. |
| Angela: | Me llamo Angela. Me van a matar. |