They All Laughed
(1981)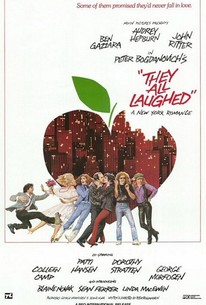 Movie Info
An odd comedy by director Peter Bogdanovich, this film follows the assignments-turned-romantic pursuits of a few detectives in the Big Apple as they each case beautiful--and married--women. Included in the cast is former Playboy playmate Dorothy Stratten who was murdered by her husband just after this film was completed.
Critic Reviews for They All Laughed
Audience Reviews for They All Laughed
Turns easygoing simplicity into a mundane affectation. In a way this is Bogdanovich's version of a Woody Allen romance-and-infidelity NY comedy, told in reverence for the Hollywood Golden Age. The dialogue tries to pass off a lot of sub-par shmoozing as poetry, which is a major step below the achievements of Saint Jack. If this movie is accurate, it was never more easy than in NYC c. 1981 to make instant friends, to "meet someone" on a given afternoon and to run into them the next day on the sidewalk. Characters are supposed to be preternaturally cool or elegant and every man is a smoothy or a klutzy charmer. The movie is not so much in love with women as it is in love with different types of dapperness in men and with lustfully pining for Dorothy Stratton. But there's a lot of treasure here for people who love movies, in the shots and the performances and a witty end credit sequence. All the women are good, even Colleen Camp after you get over her being directed to deliver lines like a typewriter. John Ritter, doing Bogdonavich, may be at his best. Blaine Novack is quite a character; Patti Hansen is the cab driver of every boy's dreams; and Dorothy Stratten can look like a genuine star and chew gum at the same time.
Adam Mahler
Super Reviewer
½
Audrey is wonderfully elegant and Dorothy Stratten glows with potential, such a waste, and while the film isn't bad it just sort of strolls along with nothing happening. Colleen Camp in what seems to be a pale imitation of the divine Madeline Kahn in What's Up, Doc? is horrible and beyond annoying, the total removal of her character would have helped enormously.
I had been trying to find this for a while, but unfortunately I was left disappointed. I can't believe this is one of Tarantino's favorite films. The only thing that kept me interested was John Ritter, cause he's one of my favs.
They All Laughed Quotes
There are no approved quotes yet for this movie.