They Came Together
(2014)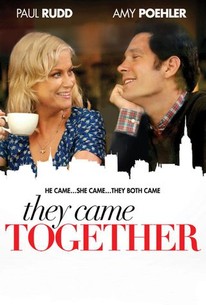 TOMATOMETER
AUDIENCE SCORE
Critic Consensus: They Came Together is surprisingly messy and perhaps too smart for its own good, but Amy Poehler and Paul Rudd's chemistry is enough to overcome many of the movie's flaws.
They Came Together Videos
They Came Together Photos
Movie Info
When Joel (Paul Rudd) and Molly (Amy Poehler) meet, it's hate at first sight: his big Corporate Candy Company threatens to shut down her quirky indie candy shop. Plus, Joel is hung up on his sexy ex (Cobie Smulders). But amazingly, they fall in love, until they break up about two thirds of the way through, and Molly starts dating her accountant (Ed Helms). But then right at the end...well you'll just have to see. (Hint: Joel makes a big speech and they get back together.) From the director of Wet Hot American Summer, Wanderlust and Role Models comes a hilarious and irreverent subversion of the romantic comedy genre. (c) Lionsgate
Critic Reviews for They Came Together
Audience Reviews for They Came Together
½
I did go into this expecting a standard rom com, so I was surprised to find it's actually kind of a spoof movie. It's really silly, but once you get that it's a spoof, and not just a really exceptionally bad rom com, it does work. Had quite a few laughs at this one.
Nicki Marie
Super Reviewer
½
If there was a picture for a film that is simply too smart for its own good, this would be the movie pictured. Paul Rudd and Amy Poehler make for a great pair, and their chemistry is undeniable, but the film is just too clever for its own good. It's incredibly self-aware and so stuck up in the idea of parodying romantic comedies that it doesn't really have its own identity. I don't mean that to be harsh or anything, because that's really the whole point of the film, to parody romantic comedy cliches and stereotypes. But, and this is gonna seem blasphemous to people, even to me it is a little blasphemous, but Young Frankenstein, in all its parodying of classic Universal horror films, still feels like it is its own unique film with a distinct identity. It, of course, owes everything to the films it makes fun of, but it still feels unique. That's not to say this film is completely devoid of its own style, but it's much too concerned about exaggerating the cliches associated with the genre that it just misses mark more often than it hits. That's not to say the film is completely devoid of laughs, Christopher Meloni gets some of the best laughs of the film, and I find the guy to be an incredibly underrated comedic actor. Michael Shannon's cameo is also really quite funny. Might have actually been my favorite part of the film, but that may just be because I'm such a huge fan of Michael Shannon. The problem with the film isn't that it doesn't have any jokes, it's just that it has so many of them that a lot of them just aren't up to snuff. But, if you happen to cut the worst of them out, you'd have a considerably shorter movie than it already is. So there's an obvious dilemma. And that's a shame, because I think there's a great movie here if only the material was a bit better. Not saying that's what here is bad, SOME of it is, but it could've been so much better considering the people involved. Amy Poehler and Paul Rudd are naturally funny people, so they make it work for the most part. The film goes through all the rom-com cliches. Joel and Molly hate each other when they first meet, Molly owns an adorably quirky candy shop, whereas Joel works for a candy corporation looking to put Molly's shop out of business. They fall in love, they break-up, they get together with other people, Molly accepts a marriage proposal from a man she doesn't love, and walks out on him at the altar when she realizes he's not the one. Joel tries to win back Molly by promising the world, etc, etc. You've literally seen all of this before, and that's really kind of the point. I just wish the film would've been more subtle about its parodying of the rom-com genre. With that said, the film is still, somewhat, fun if you don't mind your films being as self-aware as this one is. It benefits from a very talented cast, and some really funny moments, but there are plenty of misses in this film, and that keeps it from being much better than it probably should've been.
Jesse Ortega
Super Reviewer
½
David Wain assembles his pals once more for another satirical romp through a genre film. This time he takes on romantic comedies, casting Paul Rudd as our affable leading man, and Amy Poehler as our clumsy heroine. While some of this film is really funny and hits the nail right on the head, the writing also gets too pointed and contentious. Part of parodying these kinds of films is knowing what makes them great, and showing the positives of the genre, and this film only wants to point out how ludicrous romantic comedies are. The part with Meloni and the superhero suit had nothing to do with anything, but I thought it was funny, and the music video in the middle of the film was weird but amazingly perfect. Little things like that made it funny and unexpected, but the rest was very obvious in choice and execution. Still, I loved the cast and every performance, so perhaps Wain will be making another ensemble film soon.
Spencer S.
Super Reviewer
They Came Together Quotes
There are no approved quotes yet for this movie.