They Died With Their Boots On
(1941)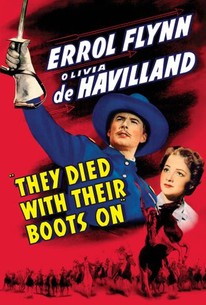 Movie Info
Though history is distorted almost beyond recognition in Warner Bros.' They Died With Their Boots On, audiences in 1941 ate it up like cotton candy. In the gospel according to Warners, General George Armstrong Custer (Errol Flynn) is neither an arrogant fool nor a rabid Indian hater. Instead, he is a flamboyant but brilliant cavalry officer, who during the Civil War defies his superiors' orders and becomes a hero as a result. After a period of forced retirement in the postwar years, Custer is put in charge of the 7th Cavalry in the Dakota Territory. Here he whips this ragtag group into spit-and-polish shape, and also does his best to extend a neighborly hand to the local Indian tribes. Custer even goes so far as to promise Chief Crazy Horse (Anthony Quinn) that the white man will never set foot in the sacred Black Hills. Alas, Custer is betrayed by greedy gold prospectors, whipped into a frenzy by scheming (and fictional) land speculator Ned Sharp (Arthur Kennedy). Forced by circumstances to do battle against Crazy Horse to prevent tribal retaliation, Custer and his command ride towards a rendezvous with destiny at the Little Big Horn on June 25, 1876. Though some of the historical inaccuracies in the film are real howlers, blame cannot be laid solely at the feet of Warner Bros.; the Custer legend had previously been perpetrated by the general's loyal widow Elizabeth Bacon (played herein by Olivia de Havilland), then eagerly elaborated upon by Eastern news journalists and dime novels. This film represented the final screen pairing of Errol Flynn and Olivia de Havilland, a fact that lends poignancy to their classic parting scene. Though an extremely long film, They Died With Their Boots On is never dull, especially during the spectacular Custer's Last Stand finale.
Critic Reviews for They Died With Their Boots On
Audience Reviews for They Died With Their Boots On
History (as specious as that is) records that U.S. President Ullysses S.Grant publically disparaged the tactics of George Armstrong Custer after the Little Big Horn and that, in reply, his wife, Elizabeth, devoted the rest of her life defending her husband. The truth is buried at the site, but Warner Bros., with Raoul Walsh at the directing helm, sides with Mrs. Custer's version of events. No matter the truth here still is exciting, stirring entertainment, and the last pairing also of the Flynn/DeHavilland team-up, one of the screen's best romantic couples.
Kevin M. Williams
Super Reviewer
Historical hogwash, Errol is dashing and Olivia looks lovely but that's not enough for the overlong running time
½
Really interesting film based (loosely) on the life of George Armstrong Custer. It's certainly guilty of a little hero worship, but a whole lot of fun. Trivia Tidbit: Flynn and DeHavilland's last film together.
Ken Stachnik
Super Reviewer
They Died With Their Boots On Quotes
There are no approved quotes yet for this movie.