They Got Me Covered
(1943)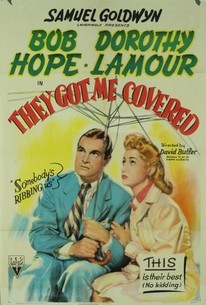 Movie Info
Bob Hope's first starring vehicle for producer Sam Goldwyn borrows the title of Bob's 1942 autobiography They Got Me Covered and very little else. Co-scripted by Leonard Q. Ross (aka Leo Rosten), Leonard Spigelgass and Harry Kurnitz (among many others!), the film casts Hope as Robert Kittredge, the Moscow correspondent for a major American news service, who is fired when he neglects to file a report about Hitler's invasion of Russia. Hoping to get back in the good graces of his boss Norman Mason (Donald MacBride), Kittredge steals another reporter's story about a Nazi spy ring operating in New York. Though officially a comedy, the film is curiously unfunny at times, with Hope playing an unsympathetic, unappealing character who'll step on anyone -- including his long-suffering sweetheart (Dorothy Lamour) and a hysterical kidnap victim (Phyllis Povah) -- to get ahead. Otto Preminger is funnier (perhaps intentionally) as the head Nazi. A few good gags notwithstanding, They Got Me Covered is nowhere near as satisfying as Hope's second Goldwyn effort, The Princess and the Pirate.
Critic Reviews for They Got Me Covered
Audience Reviews for They Got Me Covered
I really should have written about this movie when I saw it, I remember really liking this movie, but now the summary doesn't sound familiar. I really want to see this movie again, I love Bob Hope.
They Got Me Covered Quotes
There are no approved quotes yet for this movie.