They Made Me a Criminal
(1939)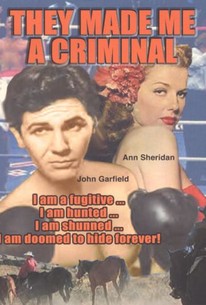 AUDIENCE SCORE
Critic Consensus: No consensus yet.
They Made Me a Criminal Photos
Movie Info
In this remake of The Life of Jimmy Dolan, a world-champion boxer believes he killed another man in a drunken fight, so he flees West to lie low. A bunch of troubled kids act as a kind of psychological mirror for him as he recognizes his problems and attempts self-redemption.
Critic Reviews for They Made Me a Criminal
Audience Reviews for They Made Me a Criminal
While directed by Busby Berkeley there actually is little for him to do but to choreograph a couple of fights in this standard Warner Bros. B-feature about New Yorkers hiding out out-in-the-sticks. Can wise-to-it-all street hustlers give up what they know for some of that folksy middle Americanism old Hollywood loved to pretend it revered? The Dead End Kids do well backing up John Garfield's streetwise tough play, while Ann Sheridan and Claude Rains are advertised but in reality hardly onscreen at all. Still, at least it ain't no cheap gyp of a film.
Kevin M. Williams
Super Reviewer
This is a remake of the life of Jimmy Dolan? No wonder I thought I's seen it already!
Busby Berkeley directs this drama that features an element of crime mixed with drama and some humor. A feel good flick that holds interest. John Garfield plays a young champion prizefighter that is led to believe he murdered a reporter in a drunken brawl; so he high steps it out of town. He heads west and stops in Arizona taking refuge on a ranch run by Ann Sheridan and staffed by the Dead End Kids featuring Leo Gorcey and Billy Halop. The gang convinces the boxer on the run to enter a prizefight to win stakes for a future gasoline station. But spoiling a good thing is detective Claude Rains, who recognizes the champ and is set to take him back. A nice escape back to days gone by.
Cassandra Maples
Super Reviewer
They Made Me a Criminal Quotes
There are no approved quotes yet for this movie.