They Saved Hitler's Brain
(1963)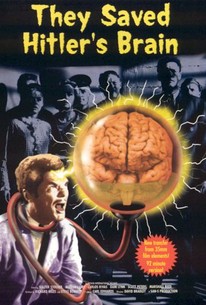 Movie Info
After his head is surgically removed and sustained, Hitler is, essentially, still alive and living on an island in the Caribbean. When a young woman and her husband goes in search of her scientist-father and sister, they find a group of Nazis--still under the command of Der Fuhrer--who plan to resume their atrocities upon humanity in a scheme of world domination.
Critic Reviews for They Saved Hitler's Brain
Audience Reviews for They Saved Hitler's Brain
Ok, yeah it's bad. It's incoherent for the most part and the real plot of the thing doesn't kick in until halfway through while the rest of the time is filled up with wraparounds that have no bearing on the story and are there soley to fatten the film out to a specific length. Pretty terrible, although there are a few parts that made smile - most of them involving Hitler's bodyless head being transported in the back of a Nazi vehicle.
Tim Salmons
Super Reviewer
This movie feels like the editor accidentally got three movies taped together, and maybe lost some of each film as well. It's incoherent, confusing, and just stupid, the actors are horrible. It's not even bad enough to make fun of.
They did do that thing the title says they did. But when they filmed it, it turned out to be too short, so several years later unrelated parties filmed some extra barely related spy footage and tacked it on to the beginning of the original. The result is one of the most boring and confusing movies ever made, with only some outstandingly hammy acting by Hitler's mute head (carefully preserved in a pickle jar) enlivening things at the very end.
They Saved Hitler's Brain Quotes
There are no approved quotes yet for this movie.