They Shoot Divas, Don't They?
(2002)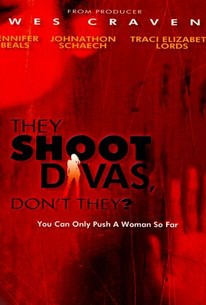 AUDIENCE SCORE
Critic Consensus: No consensus yet.
Movie Info
Originally filmed under the title Slow Burn, this made-for-TV thriller stars Jennifer Beals as Sloan McBride, a Cher-like rock diva. After 17 years on the top, the fortysomething Sloan is faced with the realization that her popularity is being chipped away by the Britneys of the world. Enter the diva's "biggest fan," Jenny (Keri Lynn Pratt), whose boundless idolatry and flattery earns her a job as Sloan's chief assistant. What at first seems to be a rehash of All About Eve takes on sinister shadings when Jenny's hidden agenda is revealed. It seems that Sloan had been instrumental in ruining the career of Jenny's mother...or at least that is what the revenge-seeking girl believes in her heart of hearts. They Shoot Divas, Don't They? joined the VH1 movie rotation on October 5, 2002.
Critic Reviews for They Shoot Divas, Don't They?
There are no critic reviews yet for They Shoot Divas, Don't They?. Keep checking Rotten Tomatoes for updates!
Audience Reviews for They Shoot Divas, Don't They?
½
Below average, but not unenjoyable trashy psycho movie. Jennifer Beales plays Sloane, a washed up pop singer in her early 40's, who employs Jenny, played by Keri Lynn Pratt, to be her assistants helper. Jenny is waitressing at a party Sloane attends and she seems sweet and eager to please. Little does Sloane realise that Jenny is not quite who, or what, she seems to be! This has a plot you can see coming a mile off. The opening shows a young child coming inside to find her mother has shot herself while watching Sloane's music video on tv (I could picture her music having that effect on a few people, actually, but I digress...). Hmmm... I wonder who that young girl might be and if she may have an axe to grind with Sloane ... The acting is pretty poor, but I kind of liked the over the top acting of Keri Lynn Pratt. It is a trash movie, and it fitted. Jennifer Beales is kind of attractive and she played a good diva. Traci Lords only appears briefly at the end as a tv presenter and is pretty campy here. I certainly wouldn't urge anyone to seek this out or pay money to rent it, but if you catch it on tv, as I did, you may not be too cross about the lost hour and a half.
Nicki Marie
Super Reviewer
They Shoot Divas, Don't They? Quotes
There are no approved quotes yet for this movie.