The Convincer (Thin Ice)
(2012)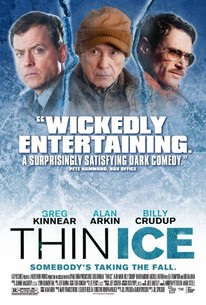 The Convincer (Thin Ice) Photos
Movie Info
Mickey Prohaska (Greg Kinnear) is a small-time insurance agent looking for a way to jump-start his business, reunite with his estranged wife (Lea Thompson) and escape the frigid Wisconsin weather. This self-proclaimed master of spin believes that salesmanship is about selling a story - all he needs is a sucker willing to buy it. He hits pay dirt with a lonely retired farmer (Alan Arkin) who is sitting on something much bigger than an insurance commission. But Mickey's attempt to con the old man spins out of control when a nosy, unstable locksmith (Billy Crudup) with a volatile temper dramatically ups the stakes, trapping him in a madcap spiral of danger, deceit and double-crossing. -- (C) Official Site
News & Interviews for The Convincer (Thin Ice)
Critic Reviews for The Convincer (Thin Ice)
Audience Reviews for The Convincer (Thin Ice)
At a convention, Mickey Prohaska(Greg Kinnear), an insurance salesman, not only loses his shirt and money, but also his wallet which turns up quickly. All of which only adds to the problems he has been having lately, including with his wife(Lea Thompson). At least, he hires Bob(David Harbour) who seems promising enough and quickly shows that when he signs Gorvy(Alan Arkin) to a policy which might have to be increased when Leonard Dahl(Bob Balban) stops by to value a very valuable violin in Gorvy's possession. "Thin Ice" is a prime example of filmmakers not being as smart as they think are, nor having any true idea as to the tone they are going after. Therefore, you are left with a very good cast in search of any kind of direction. In any case, Greg Kinnear seems like too nice a guy to play such a heel and even Billy Crudup cannot pick up the slack. In the end, you know are in big trouble if Alan Arkin can make no difference at all.
Mildly entertaining. Decent twist at the end...
Cynthia S.
Super Reviewer
½
Greetings from Kenosha, WI! Where Ordinary Folks Can Make a Killing. Good movie! I really liked this movie. It did remind me of Fargo in some ways and Greg Kinnear was excellent as the bumbling,slightly crooked insurance agent. The film maintains a steady pace, each detail is thoroughly absorbed and clearly never losing sight that its all building up to, not if, but when Mickey will cross the line from white-collar liar to criminal. Although "Thin Ice" is a fascinating take on the relationship between a simple Midwest farmer and convincing insurance man, it is foremost a story of the consequences of lying and when those lies will come back to haunt you. This thoroughly engaging and captivating little tale works from beginning to end. If one were to focus on possible weaknesses it would only be that true to it's Midwestern stylings its not overly flashy Nor particularly gritty compared to slicker studio productions. That being said "Thin Ice" is completely its own film and gives very little to dislike. Mickey Prohaska (Greg Kinnear) is a small-time insurance agent looking for a way to jump-start his business, reunite with his estranged wife (Lea Thompson) and escape the frigid Wisconsin weather. This self-proclaimed master of spin believes that salesmanship is about selling a story - all he needs is a sucker willing to buy it. He hits pay dirt with a lonely retired farmer (Alan Arkin) who is sitting on something much bigger than an insurance commission. But Mickey's attempt to con the old man spins out of control when a nosy, unstable locksmith (Billy Crudup) with a volatile temper dramatically ups the stakes, trapping him in a madcap spiral of danger, deceit and double-crossing.
The Convincer (Thin Ice) Quotes
| | |
| --- | --- |
| Gorvy Hauer: | It used to be you could trust people. You let your dog out in the middle of the night and they kill him. |
| | |
| --- | --- |
| Mickey Prohaska: | People will try to convince you of anything. Anything can be the start of a conversation. |
| | |
| --- | --- |
| Mickey Prohaska: | believe none of what you hear and only half on what you see |
| Mickey Prohaska: | Believe none of what you hear, and half of what you see. |
| | |
| --- | --- |
| Gorvy Hauer: | Do you sell dog insurance? |