Things Behind the Sun
(2001)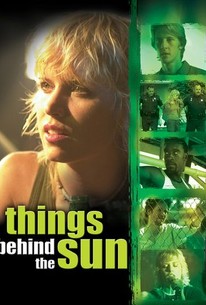 Things Behind the Sun Photos
Movie Info
Writer and director Allison Anders, who used the world of rock & roll as the backdrop for her films Border Radio, Grace of My Heart, and Sugar Mountain, returns to the music scene for this tale of a woman struggling to come to terms with an emotionally devastating past. Sherry McGrale (Kim Dickens) is a punk-influenced singer and songwriter whose angry, deeply personal music has begun to win her a national following, though the demons that fuel her art are playing havoc with her life, as she drowns her sorrows in drugs and alcohol and fills a growing police blotter with arrests for disorderly conduct. Sherry is winning significant airplay for a song about the brutal rape of a young woman, and rock journalist Owen (Gabriel Mann) convinces his editor Pete (Rosanna Arquette) to assign him a major story on Sherry when he tells her he knows the truth about Sherry's own rape as an adolescent, which inspired the song. Owen is forced to run interference with Chuck (Don Cheadle), Sherry's manager and former boyfriend who is fiercely protective of his fragile client, but Owen is still able to meet with the singer. However, Owen finds that Sherry either can't or won't remember most of the details of the brutal and degrading assault, and she doesn't want to discuss the heavy toll it's taken upon her. Influential experimental rock group Sonic Youth contributed several original compositions for the film's score; Sherry's singing voice was provided by Kristen Vigard, who performed on the soundtrack of Grace of My Heart.
Critic Reviews for Things Behind the Sun
Audience Reviews for Things Behind the Sun
½
This is a very brave, honest look at the long term effects of rape, both on the victim and on an unwilling victimizer. The fact it chooses to explore both angles is impressive, but there is much more to be found here as this is not at all a 'message' film. For example, I'd be hard pressed to name a film that is more in love with music, both specific songs and of it, the creative process behind it, the act of composing, the finished product, everything. This is the kind of film that understands how a song can, in a few minutes, often express much more than all the dialogue in the world, how the right music can have such a long lasting effect on a person. This film is remarkably powerful, with scenes of such searing honesty that they cut right to the bone of the viewer. The ending is as 'uplifting' as the circumstances allow, presenting the characters with the opportunity to grow from their experiences and look to a brighter future, but the last song is heartbreaking, reminding the audience of just how much these characters lost that one night, and how much they can never regain.
[font=Century Gothic][color=red]"Things Behind the Sun" is an autobiographical movie from Allison Anders(Grace of My Heart; Gas Food Lodging) that was first shown on Showtime. It starts out in Cocoa Beach, Fl with Sherry McGrale(Kim Dickens, in a brave, great performance) making an annual drunken odyssey to a house. Now she is on probation under the watchful eyes of her caring manager(Don Cheadle, yet another typically excellent performance). Sherry has written a song about being raped as a young girl which is making the rounds of college radio stations.(This reminded me of Tori Amos' song "Me and a Gun.") Meanwhile, Owen(Gabriel Mann), a journalist for Vinyl Fetish Magazine in Los Angeles, claims to know who raped Sherry and returns to Florida.[/color][/font] [font=Century Gothic][color=#ff0000][/color][/font] [font=Century Gothic][color=#ff0000]"Things Behind the Sun" is a very powerful movie about rape and how it negatively effects everybody involved, even years down the road. I especially liked the fact that it does not shy away from some of the more unpleasant parts of the story, thus keeping the story even more real. It does falter a bit towards the end, though. Allison Anders makes a better use of music here than she did in "Grace of My Heart". Eric Stoltz is extremely good in a short role, playing a convict.(And I apologize if I insinuated that he could not handle a serious dramatic role in my review of "House of Mirth." Apparently he can...) And it's nice to see Patsy Kensit in anything.[/color][/font] [font=Century Gothic][color=#ff0000] [/color][/font]
Things Behind the Sun Quotes
| | |
| --- | --- |
| Chuck: | I know who she is! I know who she is in her bones!...And that's who I'm hanging in here for...that sweet little girl who never had the chance... |
| Chuck: | I know who she is! I know who she is in her bones! And that's who I'm hanging in here for... that sweet little girl who never had the chance... |
| | |
| --- | --- |
| Sharry McGrale: | You didn't come here to help me. You came here to save your own ass. |
| | |
| --- | --- |
| Sharry McGrale: | Try living with the guilt knowing that the only way to get turned on is by acting out the very thing that ruined your life. |
| | |
| --- | --- |
| Sharry McGrale: | It's hard for me to be with the guys that I love. I's just easier to be with guys that don't matter or the ones that don't know me. |