Things Change
(1988)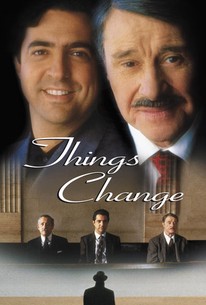 Movie Info
Perhaps it was his collaborator Shel Silverstein who said to screenwriter David Mamet "Lighten up. Do a comedy." Whatever the case, Things Change was a welcome change of pace for Mamet, both as scenarist and director. Don Ameche also goes against his usual grain by playing a downtrodden Chicago shoeshine boy (if one can call an 80-year-old a "boy") who is arrested for a crime he didn't commit. Not having much of a future anyway, Ameche has agreed--for a hefty sum--to take the rap for a gangland rubout. Mob henchman Joe Mantegna is assigned to keep an eye on Ameche over the weekend to make sure he doesn't try to weasel out of his agreement. Mantegna has been ordered to remain in Ameche's Lake Tahoe hotel, but the young guy takes a liking to the old loser. Like Jack Nicholson in The Last Detail, Mantegna takes Ameche on one last fling around Nevada. The location photography is terrific, and Ameche even more so. One would like Things Change to be equally as good, and while it never comes up to its potential, it remains a pleasant means to while away 100 minutes.
Critic Reviews for Things Change
Audience Reviews for Things Change
½
Nine years after Hal Ashby's quixotic 1979 tale of mistaken identity, Being There (with Peter Sellers as the humble gardener), Mamet followed with his take on the same subject, throwing in the Mob and its code of honor (!!!) for comic spin. Joe Mantagna is the family flunky chosen with cred enough to babysit a shoeshine boy and he's credible if underwritten. Ameche, though, is the whole film, carrying the whole piece. I thought he understood it better than Mamet pretended to ...
Kevin M. Williams
Super Reviewer
From the moment you watch Don Ameche's face, you instantly know this will be a humble, honest and heartwarming story. David Mamet changed his register here, in his second film. A sweet comedy with crystalline acting, writing and direction.
Pierluigi Puccini
Super Reviewer
It's got that Mamet touch!
Anthony Valletta
Super Reviewer
Things Change Quotes
There are no approved quotes yet for this movie.