Things to Come
(1936)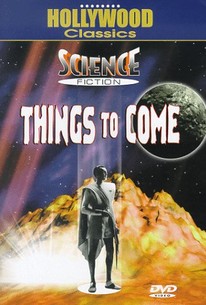 TOMATOMETER
AUDIENCE SCORE
Critic Consensus: Eerily prescient in its presentation of a dystopian future, Things to Come's special effects may be somewhat dated, but its potent ideas haven't aged at all.
Movie Info
It's Christmas 1940, and Everytown resident John Cabal (Raymond Massey) fears that war is imminent. When it breaks out, the war lasts 30 years, destroying the city and ushering in a new dark age of plagues and petty despots. But there is hope in the form of Wings Over the World, a group of pacifist scientists and thinkers lead by Cabal. Their dream is to build a utopian society on the ruins of the old. But first they'll have to unseat the latest ruling tyrant (Ralph Richardson).
News & Interviews for Things to Come
Critic Reviews for Things to Come
Audience Reviews for Things to Come
Things To Come is an interesting, historical curiosity. Viewing it is more an intellectual exercise than it is entertainment. The production is this odd mixture of the quaint, intellectual, and melodramatic and it gets to be grating at times (to the extent that one may not finish the film). Contrary to other reviewers, I did not find the film particularly prophetic but rather a projection of the views at the time it was made. I would recommend it only to those with an intellectual bent and an interest in subjects such as sociology, politics, history.
Robert Brogan
Super Reviewer
There is quite a discrepancy between the RT Critic Score and the Flixster User Score for this one. I'd read good things about this film in lists of great sci-fi pictures. The title is often printed as H.G. Wells' Things to Come, but this is not just an adaptation of his work. When watching the short lived and mediocre TV series Prophets of Science Fiction, I was pleasantly surprised to see H.G. Wells in home movie footage from the '30s. Wells lived to 1946. H.G. Wells himself wrote this screenplay. His late-19th century sci-fi vision lived into the era of motion pictures and he was able to contribute his vision of the future to this "seeing is believing" medium. Menzies, who was also an accomplished Art Director, leads the whole team in creating some fantastic sets. Unfortunately, the costumes often leave something to be desired. Story-wise Wells is astonishingly prescient in predicting WWII. The aftermath of the war with a zombie-like disease and medieval-like warring fiefdoms seems a little silly despite the extremity of nuclear fallout. Next Raymond Massey as Cabal, a descendant of a character we met earlier, shows up with an Airforce that is trying to promote science and unite all mankind. Then we jump further in the future, where there are some fun visual effects with an advanced society rebuilt on Cabal's principles. I appreciated the plot of scientific advancement vs. reactionary doubts, progress vs. status quo, however, the execution of the ideas in action is a bit too didactic. The words coming out of the mouths of the characters are stiff and not so engaging.
Byron Brubaker
Super Reviewer
½
I do give this movie credit for being one of the only sci-fi movies of the thirties, seriously I couldn't find that many, there were about two or three others I found. Anyway. I think H. G. Wells' story of Things To Come was probably much better than this movie. Most of the film is montage of footage of so-called future wars and the progress of mankind, which got really boring after a while. in between that, there are three stories of how war and violence are destroying the world, and the last story doesn't end any different from the other two. It does have good special effects, but other than that it isn't a great movie.
Things to Come Quotes
There are no approved quotes yet for this movie.