Things You Can Tell Just by Looking at Her
(2000)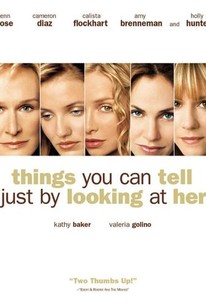 Things You Can Tell Just by Looking at Her Photos
Movie Info
Five seemingly unconnected lifelines intersect in the San Fernando Valley: Detective Kathy Farber arrives at a crime scene to find that the corpse is that of her old friend Carmen; Elaine battle her mother and waits for a male colleague to call; Rebecca finds out that she is pregnant, Rose develops a comedic obsession with her new neighbor; and Kathy's sister, Carol, speculates on what might have driven Carmen to suicide.
Critic Reviews for Things You Can Tell Just by Looking at Her
Audience Reviews for Things You Can Tell Just by Looking at Her
I usually love interweaving movies - movies where the main characters show up in each other's story lines. This one is fine, and the acting is great - but I didn't really get attached to any of the characters.
½
Five vignettes about LA women who are connected only by the film's poetic story-telling. Though the film attempts to link the five stories, it falls well short of the Altman Standard for creative interweaving. This in and of itself is not damning, but I am astounded by the skilled story construction it takes to reach the Altman Standard. This film did not astound me. In fact, strong performances by the entire cast, especially Gleen Close and Holly Hunter, keep this film from becoming a maudlin soap opera. In their stories, they are subjected to clairvoyants, one a tarot card reader, the other a homeless woman, and while their respective prophecies do little to change their lives' courses, the characters are forced to confront uncomfortable realities. Another highlight is the film's dialogue, which is poetic but fits well in these characters' mouths. Writer/director Rodrigo Garcia balances lines worthy of a literary story with the naturalness of his subject matter. Overall, there isn't a lot wrong with Things You Can Tell just by Looking at Her, but it fails to be truly extraordinary like the legendary director Garcia is imitating.
Jim Hunter
Super Reviewer
Amy Brenneman, Glenn Close, Calista Flockhart, Holly Hunter, Gregory Hines, Cameron Diaz, Matt Craven, Kathy Bates, Danny Woodburn, Valeria Golino, Noah Fleiss, Romma Mafia, Mika Boorem DIRECTED BY: Rodrigo Garcia This is a story roughly surrounding seven women. I can see all the men fleeting as I type that, lol.. It most definitely is a chick flick, so I can see some guys cringing away. But some of you out there secretly like these movies, admit it..LOL. This movie is full of some very talented actress's, some of my favorites. I was really excited to see this movie to see how it all ladies intertwined with one another in the story. I must say I really enjoyed how they connected all the women together without them actually really knowing each other. It was definitely an interesting watch and kinda sad as well. Seeing one losing their partner to an illness, the other to his wife, and seeing the other's being so desperate to have a partner. It's obvious that this is how it is for some women. But personally I find being desperate and clingy like Glenn Close character just sad. Her character is the one I felt more sad for then any of them besides Calista Flockhart. and Holly Hunters. Holly not so much for her relationship, but for what she gave up because of the relationship she had. Great acting by all. Even the younger stars in this film. Some of the stories where more interesting then others, but still flowed with the movie in its entire very well. Worth seeing if you like chick flicks.
♥˩ƳИИ ƜѲѲƉƧ♥
Super Reviewer
Things You Can Tell Just by Looking at Her Quotes
There are no approved quotes yet for this movie.