Stephen King's 'Thinner'
(1996)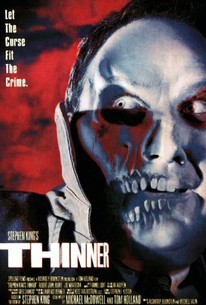 Stephen King's 'Thinner' Videos
Stephen King's 'Thinner' Photos
Movie Info
An obese attorney finds himself the unwilling subject of a horrifying weight-loss plan when he is cursed by a vengeful Gypsy.The film is based on the bestselling novel by Stephen King (writing as 'Richard Bachman'). Robert John Burke, Joe Mantegna, Lucinda Jenney, Joy Lenz, Kari Wuhrer, Michael Constantine, Sam Freed.
News & Interviews for Stephen King's 'Thinner'
Critic Reviews for Stephen King's 'Thinner'
Audience Reviews for Stephen King's 'Thinner'
½
Tom Holland's Thinner is an excellent horror tale that deserves more praise than it originally got. Tom Holland is a great director in the genre and he crafts yet another terrific tale of horror based on the book by the same name by Stephen King (who wrote the book under the pseudonym Richard Bachman). The plot surrounds Billy Halleck who is cursed by Gypsy's after Helleck accidentally kills a member of their clan. Now, Billy Halleck is losing weight more and more. Holland delivers a great film with Thinner, and he keeps the chills going due to his knack of creating a tense, creepy atmosphere, which he applied in his 1985 masterwork, Fright Night. This is a well made horror film that has some great special effects and effective chills to keep you interested from start to finish. Thinner is quite frankly an underrated Stephen King adaptation and it definitely is worth seeing if you love King's work. This is an entertaining film that should appeal to horror fans. Despite its flaws, this is one of the better King adaptations and it is one of the better horror films of the 90's. At times the film is genuinely creepy and Tom Holland pulls off something wonderful with great scrip at hand, therefore this is the director's best work since 1985's Fright Night. If you're looking for an effective and entertaining horror yarn, give this film a shot. A much underrated film, Thinner deserves a bit more praise than what it actually received. This is a memorable horror film that boasts impressive special effects and pretty good acting.
½
Another terrible made for TV adaption of one of Stephen King's more psychologically disturbing stories. This is not scary, inaccurate and plain stupid. The acting is terrible, the special effects are laughable and it has zero effect. It's better forgotten, hopefully one day it will be remade with a little respect and a decent screenwriter and director.
Conner Rainwater
Super Reviewer
I think it lived up to the book....even though it felt lite they just tried to sum up every scene in the fastest way possible...the movie could have been longer. But they shure found the perfect guy to play Billy.
Martin Sahlin
Super Reviewer
Stephen King's 'Thinner' Quotes
There are no approved quotes yet for this movie.