Third Person
(2014)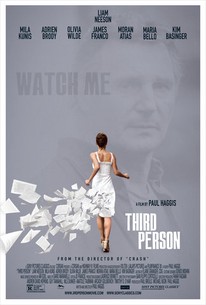 TOMATOMETER
AUDIENCE SCORE
Critic Consensus: Third Person finds writer-director Paul Haggis working with a stellar cast and a worthy premise; unfortunately, he fails to fashion a consistently compelling movie out of the intriguing ingredients at his disposal.
Movie Info
THIRD PERSON tells three stories of love, passion, trust and betrayal, in a multi-strand story line reminiscent of Paul Haggis's earlier Oscar-winning film Crash. The tales play out in New York, Paris and Rome: three couples who appear to have nothing related butshare deep commonalities: lovers and estranged spouses, children lost and found.(C) Sony Pictures Classics
News & Interviews for Third Person
Critic Reviews for Third Person
Audience Reviews for Third Person
½
I admire the type of narrative exercise that Haggis is aiming at here, but the result is prolix, convoluted and disjointed, trying to bite off more than it can chew with too many silly revelations and moving from one twist to the next like a messy soap opera.
Carlos Magalhães
Super Reviewer
½
Bad reviews did not stop me from liking this romantic thriller directed and written by Paul Haggis, Starring Liam Neeson, Mila Kunis, Adrien Brody, Olivia Wilde, James Franco, Moran Atias, Kim Basinger, and Maria Bello, it offers three compelling stories which at the end melt into one. Haggis followed his Academy Award winning formula from his film Crash, but this time he is dealing with relationships. Stories were told in Paris, New York and Rome, with each storyline following a different stage of a love relationship from the beginning, middle and the end. It wasn't successful result as Crash, but it has its own charm and artistic value. I understand that many people will say that is dreary, but for me it had the right pace which allows the viewer to grasp some of the complexities of the emotions and their relationships. If you like solid directing, check it out!
½
Paul Haggis is the Oscar-winning writer/director of Crash, so a man not known for subtlety. And that can be fine, but with his latest effort, Haggis wastes his time on a sluggish triptych that doesn't come together in any satisfying or clever manner. Like Crash, we follow multiple storylines that we expect to intersect or crisscross. Liam Neeson plays an arrogant author checked into a French hotel trying to write his next novel. He engages in a series of cruel and flirty games with his mistress (Olivia Wilde). Adrien Brody plays a fashion spy in Italy who grows a conscience to help an immigrant regain her daughter. Mila Kunis is a New York actress struggling to get her life in order so she can regain some measure of custody for her son. Right away, the characters are rather bland and remote, refusing to provide much depth or development. Then there's the fact that the plot requires so little of them, falling into a deadly lethargy that it can't shake free from. You keep waiting for something more significant to take place but the characters just dawdle, spouting dialogue that never feels authentic. I kept waiting for the twist spoiled by the trailer for Third Person, and by the time two hours passed, I had to note that it was not a mid-movie twist spoiled by the trailer, it was the twist ending. Did the marketing department watch their own movie? I've never seen that before; late plot developments, yes, but never the twist ending. There is a reason why these characters are so poorly developed but it's still not a satisfying reason to watch blasé people blunder around with little direction for over two hours, especially when they have no discernible connection to one another beyond heavy-handed linked themes. Hey, at least Third Person has a favorable amount of Olivia Wilde nudity to keep your interest, if you're like me. After that's done, though, you can check out just like this array of substandard and morose characters. Nate's Grade: C
Nate Zoebl
Super Reviewer
Third Person Quotes
There are no approved quotes yet for this movie.