Third Star
(2010)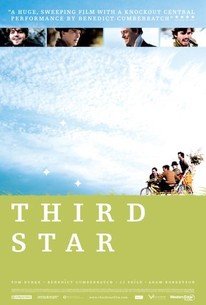 Movie Info
BAFTA-winning short filmmaker Hattie Dalton makes an auspicious feature debut with this poignant but still screamingly funny paean to making the most of life while you still can. James invites his three closest friends to join him on a road trip to his favourite place in the world. Like many an impulsive group holiday, however, the undertaking proves fraught with practical difficulties, surreal encounters and emotionally ravaging revelations... With a vibrant, witty and insightful script by Vaughan Sivell, and a quartet of excellent lead performances from the UK's finest young actors, this is a moving, pertinent and unpredictable film, and a fantastic showcase of new and promising British film talent.
Critic Reviews for Third Star
Audience Reviews for Third Star
A beautifully shot film starring a beautiful quartet of friends, one of whom has terminal cancer, making the journey to said dying friend's most favourite place on Earth to spend one last get-together. Sounds horrible perhaps, but this is truly a stunning, moving, hilarious, wonderful film that has been imbedded in my brain since I saw it on a tiny screen in a near-empty theatre. It's a small film with modest aims that absolutely succeeds on numerous levels and is one of the few films I've watched that had me uncontrollably *sobbing*. You can perhaps tell where it is going but every now and then I found myself wrong-footed in surprising ways. The concluding 15 minutes are a genuine tour-de-force in acting, writing and direction as every possible thought that anyone in such a situation would have is verbalised. To elaborate more would be unfair. This little seen and critically ignored/maligned film is worthy of your time and I implore you to seek it out as this talented director and exceptionally talented cast deserve to go on to do more widely recognised work.
Daniel Parsons
Super Reviewer
Third Star Quotes
There are no approved quotes yet for this movie.