Thirteen
(2003)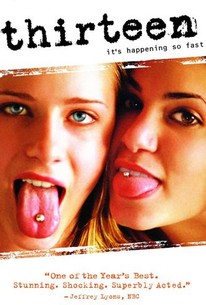 Movie Info
At the edge of adolescence, Tracy is a smart straight-A student--if not a little naive. When she befriends Evie, the most popular and beautiful girl in school, Evie leads Tracy down a path of sex, drugs and self-mutilation. As Tracy transforms herself and her identity, her world becomes a boiling, emotional cauldron fueled by new tensions between her and her mother--as well as, teachers and old friends.
Critic Reviews for Thirteen
Audience Reviews for Thirteen
How is this ugly, depressing pile entertainment?
½
Thirteen is a decent teen drama concerning two troubled teens that started off well enough, but decided to take the rebellious route. I enjoyed the film somewhat, but I was pretty disturbed too. The performances from the two lead actresses were what made this film much better than what it turned out to be. This for me is not a film that warrants multiple viewings, as the troubled teen format is not something that really interests me. I've seen many teens act this way when I was in High School, all those years ago, and it just infuriates me seeing this. The story is interesting, but it does lack in some areas and it could have been done much better too. The film flawed, and it is hard to really enjoy because it's a dark film after all, one that showcases the rebellious behavior of teenagers and it's not something that is pleasant to watch. The film, like I said is a decent affair, but it never becomes anything more than what it should have been. This should have been an accomplished drama, but in the end it's just a so-so movie that feels like it's trying way too hard at being a work that portrays the darkest side of teenage angst. I really didn't like the characters, and found them to be primadona's and it just was a film that was quite depressing. Well acted with a decent story, Thirteen could have been a far better film as well. I really wanted to enjoy the film, but it's one of those films that just leaves a lot to be desired.
½
This film evokes a veritable plethora of negative emotion; I hated almost everything that occurred, but I didn't hate the film. This film explores the anguish caused by the immaturity of adolescence: the competition, the bullying, the need for conformity. Its characters are like those found in Larry Clark films, however 'Thirteen' has none of the sleazy, gratuitous perversion that Clark relishes. This film explores all the vices, it depicts the worst of impressionable adolescence, but the camera never lingers luridly. The story is familiar, one that everyone can relate to. It's about Tracy (Evan Rachel Wood), a painfully impressionable teen who desperately wants to fit in with the 'cool' crowd, who ironically are anything but. The 'cool' kids are repugnantly crass - truly revolting people. Tracy unfortunately thinks otherwise, becoming best friends with the utterly amoral prize bitch Evie (Nikki Reed). Her influence upon Tracy is immediate, and their activities together soon escalate; Tracy quickly becomes a scheming, stupid and cruel little bitch, too. Her descent is exasperating to watch, partly through how powerless Tracy's suffering mother (Holly Hunter) is. The performances are remarkably natural, they really are. It will never age in this respect, peak realism is shown here. Hunter and Wood have scenes of intense emotion, the kind of emotion so desperately strong that it transcends everything. The excitable exchanges between Wood and Reed are also commendable for their credibility. The film could be a real eye-opener to teens that are experiencing similar situations. The film would show them that Tracy isn't cool or radical; she's just another kid in the midst of a predictable, cringe-worthy cycle that has been experienced by millions from all generations. 'Thirteen' will have you wanting to commit acts of extreme violence. If you can restrain your temperament throughout the many scenes of vast obnoxiousness, gross injustice and scores of vulgar, idiotic characters - I salute you. All of this, however, is testament to the power of the film. It's an unpleasant watch, but the provocation it causes is interesting, I've written this review faster than usual!
Jack Hawkins
Super Reviewer
Thirteen Quotes
| | |
| --- | --- |
| Melanie: | I love you and your brother more than anything in the world. I would die for you, but I won't leave you alone right now. |
| | |
| --- | --- |
| Melanie: | I want you here with me. You're my heart. I'll make it right. |