Thirteen Days
(2000)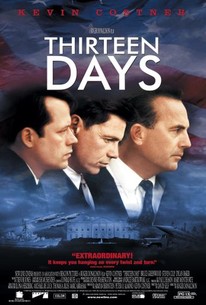 TOMATOMETER
AUDIENCE SCORE
Critic Consensus: Thirteen Days offers a compelling look at the Cuban Missile Crisis, and its talented cast deftly portrays the real-life people who were involved.
Movie Info
For thirteen extraordinary days in October of 1962, the world stood on the brink of an unthinkable catastrophe. Across the globe, people anxiously awaited the outcome of a harrowing political, diplomatic and military confrontation that threatened to end in an apocalyptic nuclear exchange between the United States and the Soviet Union. The alarming escalation of events during those fateful days brought to the fore such public figures as Robert McNamara, Adlai Stevenson, Theodore Sorenson, Andrei Gromyko, Anatoly Dobrynin, McGeorge Bundy, Dean Acheson, Dean Rusk, and General Curtis LeMay. In addition many others -- politicians, diplomats and soldiers -- were on the front line of the showdown. In Thirteen Days, we see all of these people, -- and, above all -- President John F. Kennedy and his brother Bobby, through the eyes of a trusted presidential aide and confidante, Kenneth P. O'Donnell.
News & Interviews for Thirteen Days
Critic Reviews for Thirteen Days
Audience Reviews for Thirteen Days
½
Great script, better than average costumes, decent acting (I say that even with Kevin Costner in a leading role!), good directing -- and lots of historical drama. "Thirteen Days" is the Cuban Missile Crisis lesson you wish you'd had in high school.
Christian C
Super Reviewer
½
"If the sun comes up tomorrow, it is only because of men of good will. And that's - that's all there is between us and the devil." A dramatization of President Kennedy's administration's struggle to contain the Cuban Missile Crisis in October of 1962.
REVIEW
In the 1960's few realized how close the world came to Nuclear Winter. Even today, with all the resources at hand, fewer care who prevented the Third World War. One thing is certain, America was enormously fortunate to have had as President of the United States, John F. Kennedy (Bruce Greenwood) during those nearly fatal "Thirteen Days." As the thinking man's president, Mr. Kennedy was lucky to have in his cabinet men of intellect and reason. His main confidante was his younger brother, Robert Kennedy (Steven Culp) who proved invaluable as Attorney General. When the world learned of the Nuclear threat ninety miles away, Kennedy came to rely heavily on his political adviser Kenny O'Donnell (Kevin Costner) who displayed cautious insight and prudent judgment in critical moments which could have proved disastrous had the Joint Chiefs of Staff gotten their way. Further, Kennedy was definitely fortunate to have selected as his ambassador to the United Nations, Adlai Stevenson (Michael Fairman) who stood toe to toe with Russian's Valerian Zorin (Oleg Vidov) and did not back down. The film is dramatic and terrifyingly accurate with dated Black and White footage and actual verbal scripts from hidden recordings from the oval office. What we know today is; had the Administration followed the prodding of the military, they would have initiated the Third World War as the Russian military in Cuba, actually had short range Atomic warheads at their disposal. This is a frightening film for rational people.
Lorenzo von Matterhorn
Super Reviewer
Great film! A movie that I've watched at school that was legit, not a lame educational movie. A very good adaptation of the drama and conflict behind the Cuban Missle Crisis. Fueled mostly by great performances and powerful dialogue, this film is a great historical drama. The emotion and intensity in the story is very believable. We truly were on the brink of war, and this film I believe captures a realistic look into what occured. I recommend this film to everyone, especially History buffs.
Jameson Worley
Super Reviewer
Thirteen Days Quotes
There are no approved quotes yet for this movie.