Thirteen Ghosts (13 Ghosts)
(2001)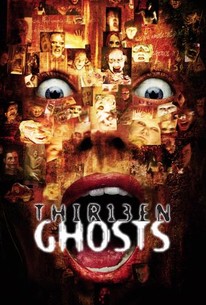 Thirteen Ghosts (13 Ghosts) Photos
Movie Info
This haunted house chiller is the second feature from Dark Castle Entertainment, the mid-budget outfit put together in 1999 to remake the cheesy horror genre pictures of William Castle by his daughter Terry Castle. Down on his luck, the broke Arthur (Tony Shalhoub) is grateful when he learns that his eccentric, recently deceased uncle willed him his lavish home. Arthur and his daughter Kathy (Shannon Elizabeth) move into the odd house only to discover that its elaborate series of moving glass walls exists to contain 13 spirits trapped within. It seems that Zorba was a collector of paranormal entities, but the supernatural spooks want out, while an alleged hidden fortune keeps the new owners, as well as some fellow treasure seekers and a veteran ghost hunter locked inside. Thirteen Ghosts (2001) co-stars F. Murray Abraham, Embeth Davidtz, and Matthew Lillard.
Critic Reviews for Thirteen Ghosts (13 Ghosts)
Audience Reviews for Thirteen Ghosts (13 Ghosts)
½
an update of an original classic b-movie which, despite better technology, fails to drum up much in the scare department and is actually irritating to watch.
Kevin M. Williams
Super Reviewer
This movie was Plainly terrible. The acting was horrible even by horror movie standards, and the story was just horrible. This film did have cool effects, which I did enjoy and kept my mind off the terrible story. In the end, not even the special effects saved this stupid ''horror'' film.
½
Another cool Dark Castle entertainment horror re-make. Didn't know of the original until I saw some reviews mention it. This reminded me a lot of the House on Haunted Hill remake made 2 years earlier. It's fun, not too serious, has a good mix of humour and gore/kills. The cast is ok and well known with Shannon Elizabeth and Matthew Lillard, but it was a nice surprise to see Tony Shalhoub (Monk) appear in this. What really makes this film enjoyable in my opinion, along with House on Haunted Hill, is the set design, make up and ghoulish characters created. Both films have a great wacky house setting, good SFX and the ghosts in this look awesome. A great way to enjoy 90mins. So if you liked House on Haunted Hill you will like this just as much.
Thirteen Ghosts (13 Ghosts) Quotes
| | |
| --- | --- |
| Rafkin: | I'm sure as hell hope I don't bleed to death. That, would suck. |
| | |
| --- | --- |
| Rafkin: | If you hadn't noticed, I'M A LITTLE BIT OF A FREAK! I come within ten feet of anything dead I go into seizures. I touch somebody, and a whole life full of shit flashes in front of my eyes! Alright? So yeah, I'm depraved. But Cyrus was my friend and he accepted me |
| Rafkin: | If you hadn't noticed, I'm a little bit of a freak! I come within ten feet of anything dead I go into seizures. I touch somebody, and a whole life full of shit flashes in front of my eyes! Alright? So yeah, I'm depraved. But Cyrus was my friend and he accepted me. |