36 quai des orfevres
(2005)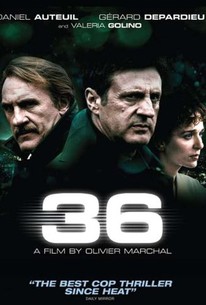 36 quai des orfevres Photos
Movie Info
Euro screen legends Gérard Depardieu and Daniel Auteuil star, respectively, as French cops Denis Klein and Leo Vrinks, in Olivier Marchal's tough-as-steel policier 36 Quai des Orfevres. The story unravels at the titular Parisian police headquarters, where Klein (who heads up the department's anti-crime unit) and Vrinks (who manages the "search and action squad") go head-to-head -- competing with one another not only to succeed their boss, but to be the first to solve an ongoing series of security-van robberies. Ultimately, the men resort to sabotaging one another, and thus set the stage for an ongoing series of twists, turns, reversals, and betrayals. Valeria Golino and Catherine Marchal co-star; Olivier Marchal co-authored the script with Dominique Loiseau, Julien Rappeneau, and Franck Mancuso.
News & Interviews for 36 quai des orfevres
Critic Reviews for 36 quai des orfevres
Audience Reviews for 36 quai des orfevres
Based on certain real life events or stories from a real cops career and directed by that said ex-cop sure means this is gonna be realistic or you hope it would be. You really get a vibe of 'Heat' here with this, the French version, a very solid tense story that weaves in and out with a few sub plots going on and many characters to keep up with. I must admit I didn't really get on with the film as much as 'Heat' as there isn't as much action and what there is can't compare to the Hollywood flick and there is also allot of subbed dialog to follow which does become tedious I can't deny. Its a very good film and very well made that's clear from the start, Depardieu is great as the dirty police chief who slowly gets so corrupt that the lines of morality between cop and criminal are lost. Other cast members I have never really heard of but they all do their jobs very well with other main lead Daniel Auteuil even looking kinda Pacino/De Niro-ish haha. Fast moments of car chasing and gun play are exciting but short lived for me giving way to allot of plot and talk which I just couldn't get on with to be honest, loved the look and the performances but its long and predictable really. It does seem more accurate than most other Hollywood ventures though I give it that.
Phil Hubbs
Super Reviewer
½
AKA: 36th Precinct--A French police thriller, full of mean-spirited rivalry and rampant cop corruption. Well done enough to peak my interest. What do famous French actors do when they get older and fatter? I guess they star in movies like this to give the movie some appeal.
Cynthia S.
Super Reviewer
Corny, far-fetched, melodramatic, littered with belief-beggaring coincidences and more predictable than Titanic (who saw that iceberg coming? Not me!). Thinking about it, there's a lot to dislike about this movie; that I didn't totally despise it is entirely attributable to a superb cast, in particular the ever-excellent Daniel Auteuil. The film opens with an audacious armoured car robbery, inevitably inviting comparisons with Michael Mann's masterly Heat. However, the similarities quickly evaporate when it becomes apparent that co-writer/director Olivier Marchal, unlike Mann, is not greatly interested in playing cat and mouse with his cops and robbers, indeed is barely interested in his criminals at all. What we get instead is an exploration of the rivalries and murky ethics of the two detectives heading the investigation into the robberies, one played by Auteuil, the other by Gérard Depardieu. Dramatic impetus - and not a little implausibility - is provided by the fact that, in addition to working the same case, both men are vying for the same promotion and have clashed over the same woman in the past. If this all sounds a bit like a soap opera, it should, because it is. Undeniably entertaining though, and, believe it or not, fans of The Count of Monte Cristo will find much to enjoy in the second half.
36 quai des orfevres Quotes
There are no approved quotes yet for this movie.