This Boy's Life
(1993)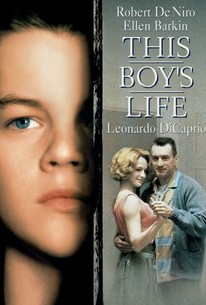 TOMATOMETER
AUDIENCE SCORE
Critic Consensus: A harrowing, moving drama about a young boy, his single mother, and his abusive stepfather, This Boy's Life benefits from its terrific cast, and features a breakout performance from a young Leonardo DiCaprio.
Movie Info
This Boy's Life is a true-life coming-of-age story about '50s teenager Tobias Wolff (Leonardo DiCaprio) and his mother, Caroline (Ellen Barkin). After travelling around the country in an effort to avoid Caroline's abusive boyfriend, the mother and son settle in Washington state, where she marries a man named Dwight Hansen (Robert DeNiro), who appears to be a good husband and father. However, Dwight reveals himself as an abusive man shortly after the marriage; in particular, he verbally harasses and physically beats the young Tobias. By the end of the film, Tobias has to confront his stepfather. This Boy's Life is based on the autobiographical book of the same name by the real Tobias Wolff.
News & Interviews for This Boy's Life
Critic Reviews for This Boy's Life
Audience Reviews for This Boy's Life
½
Before the heights of stardom, a young Leonardo DiCaprio built his name with this coming-of-age tale based on the real life memoirs of writer Tobias Wolff. On this evidence it's easy to see why his talents couldn't be ignored. Caroline (Ellen Barkin) drifts from State to State and boyfriend to boyfriend, dragging her now teenage son Toby (Leonardo DiCaprio) along with her. Finally it seems she may have met the man of her dreams, in the shape of Dwight (Robert DeNiro). After excitedly making plans to stay this time and begin a new life, it becomes apparent they were a little swift to judge as Dwight's gentlemanly facade begins to slide, revealing his true nature. Scottish director Michael Caton-Jones ("Rob Roy") shows he has an excellent eye for detail in small town America and an even better eye for talent in discovering Leonardo DiCaprio. His performance here is nothing short of astounding and when pitted against the likes of Robert DeNiro, you kind of have to be on your game. Not only is DiCaprio on top of his game for such a young age, he matches - if not betters - the legendary actor. His portrayal of Toby is heartfelt and extremely emotional. Ranging from desperation and capitulation to courage and triumph. He displays a myriad of emotions as a misunderstood and frustrated young man, with sudden bursts of violence and a rebellious nature, to an eventual inner strength and maturity. His performance is helped no-end by the chemistry he shares with DeNiro. They both play off one another powerfully. DeNiro offering another skillfully nuanced addition to his canon of dysfunctional and abusive characters throughout his illustrious career. You can almost feel the jealous rage that consumes Dwight, a very physical and psychologically abusive man. The verbal and mental jousting between both actors is raw and highly charged, eventually culminating into physical brutality with a fight scene that looks entirely realistic. Two wonderful actors delivering powerhouse performances. Unfortunately, despite her obvious talents, Ellen Barkin is left caught between the two male leads with a very underwritten role. However, she's no slouch and still manages a show of strength in her character as well as a vulnerability. This is an absolutely harrowing and absorbing true life story with a perfectly rendered 1950's setting and a fine supporting cast that deserves far more recognition than it's recieved. With two indefatigable and energetic lead performances it's easy to see why Robert DeNiro is regarded as the greatest screen actor of his time and why DiCaprio became a star and may yet follow in the legend's footsteps.
Mark Walker
Super Reviewer
½
Two acting powerhouses from two generations, a young DiCaprio and De-Niro, locks horns in this gripping movie about a dysfunctional family. No one watching this movie then would've known that this was the signs of things to come. Years later, DiCaprio have grown in to a similar stature of DeNiro, even replacing him as the as the certain fixture in Scorsese movies.
Tragic childhoods do not always make great or even good movies! I see movies like this and think the movie could just as well be based on my childhood!
Thomas Johnston
Super Reviewer
This Boy's Life Quotes
| | |
| --- | --- |
| Dwight Hansen: | I don't think I flatter myself by saying I'm something of a whiz with a rifle and living in concrete gives me every opportunity to prove that |
| | |
| --- | --- |
| Dwight Hansen: | Is it empty? Is it empty? is it empty?! IS IT EMPTY?! |
| Dwight Hansen: | Is it empty? Is it empty? Is it empty?Is it empty! |
| Toby Wolff: | No! |
| | |
| --- | --- |
| Dwight Hansen: | There he is...the guy who thinks he knows everything. |
| Dwight Hansen: | There he is. The guy who thinks he knows everything. |