This Is England
(2007)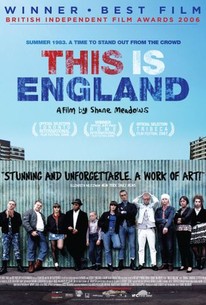 Movie Info
It's 1983 and school is out. Twelve-year-old Shaun is a lonely boy growing up in a grim coastal town in northern England, whose father died fighting in the Falklands War. Over the course of the summer holiday he befriends a group of local skinheads. With his pent-up rage and frustration, Shaun finds exactly what he needs in the gang-mischief, mayhem and brotherhood. He also meets the volatile and boorish Combo, an older skinhead who sees himself in Shaun. Adopting Shaun as his protege, Combo leads the gang down a hate spewing path that culminates in an irreversible act of violence.
News & Interviews for This Is England
Critic Reviews for This Is England
Audience Reviews for This Is England
Touching, funny, harrowing; "This is England" is a film of effortless power and a definite standout of British movie making in the noughties. An honest, street-smart screenplay (and autobiographical account) by Shane Meadows (Dead Man's Shoes) and the incredible performances of the young Thomas Turgoose and Stephen Graham (as one of the scariest ticking time bombs in recent memory) make for an unforgettable film and a mandatory viewing for anyone who appreciates gritty realism on screen.
Lucas Martins
Super Reviewer
½
It's a very interesting movie and I can understand why some people would call it a masterpiece. I however thought it was good but at times a bit too gritty for it's own good. Unlike say, Four Lions, it didn't sympathise the characters enough and sometimes when the drama get's too serious, it get's a bit boring. This is England is a skillfully directed film and the source material has been studied in depth but a lot of people I guarantee will loathe it.
Directors Cat
Super Reviewer