This Is Martin Bonner
(2013)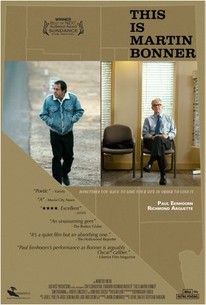 TOMATOMETER
AUDIENCE SCORE
Critic Consensus: Solemn but heartfelt, This is Martin Bonner is a slow-burning drama with an outstanding performance by Paul Eenhoorn as the title character.
This Is Martin Bonner Photos
Movie Info
The striking sophomore film of writer/director Chad Hartigan, THIS IS MARTIN BONNER is a warm and perceptive meditation on friendship, human connection and getting a second chance at life. Fifty-something Martin Bonner (Paul Eenhorn) leaves his old life behind and relocates to Reno, where he finds work helping released prisoners transition to life on the outside, while trying his hand at speed dating and passing time as a soccer referee on weekends. Meanwhile, Travis Holloway (Richmond Arquette) has just been released from prison after serving 12 years. Surprising both of them, Travis and Martin form an unlikely friendship that offers them reciprocal support and understanding. (c) Official Site
News & Interviews for This Is Martin Bonner
Critic Reviews for This Is Martin Bonner
Audience Reviews for This Is Martin Bonner
½
Martin Bonner(Paul Eenhoorn) is a middle-aged divorced man who lives alone in Reno, Nevada, transplanted from Australia by way of Baltimore. When his grown daughter is not setting him up on blind dates, he volunteers to counsel recently released convicts. The latest is Travis Holloway(Richmond Arquette) who has just been released after a 12-year sentence and is wondering what to do next. Before he looks for a job, Martin takes the opportunity to take him out to lunch. Not much happens in the low key character study "This Is Martin Bonner." Then again not much has to really, as the movie takes its time in setting the mood and getting to know these two lonely men, both at different points in their respective lives. In general, the movie confirms the observation that everybody in Nevada has come from somewhere else, with Martin being imported due to his knowledge of soccer. So, if Las Vegas does get an NHL franchise, they will have to entice Canadians to come south by the busload.
This unexpectedly excellent drama which will slowly draw you in, is written and directed by Chad Hartigan. The film stars Paul Eenhoorn as Martin Bonner, an Australian man in his late 50s forced to relocate to Reno, Nevada for a new job and his attempts to acclimate and make new friends. Through his work at a prison rehabilitation non-profit organization, he meets Travis Holloway (Richmond Arquette), and the two men form an unlikely friendship. The stories of Martin and Travis slowly converge, as the two men meet and find that they have much in common, not the least of which is an unspoken need for encouragement and support. Their unlikely friendship blossoms but is put to the test when Travis betrays Martin's trust in order to reunite with his estranged daughter. This movie premiered at the Sundance Film Festival and won the Audience Award for Best of NEXT. If I have to ask myself why, there is so many things that could contribute to the answer... it was acted with smart restraint and shot with corresponding composure.. this sombre drama was built out of small moments of naturalistic behaviour which were acutely observed... the directing was unobtrusive and sophisticated... secular spirituality in its best! There is more, but even those are enough! If you decide to watch this film you'll be surprised - there is no other option! You will witness uncommon tale of redemption that may leave you with an uncanny sense of peace. Not everything is conventional, and the imagistic approach to narrative will leave some bitter taste with some critics and viewers. It didn't for me, I liked it. (I am really glad that this was my 1100th review!)
½
Wait, hold on, this is Martin's what now? I'm sorry, that was kind of risky there, especially for me, that one jerk who makes sure that his reviews are squeaky clean, ostensibly for the young folks who will never, ever read these articles, but come on, don't tell me that you weren't thinking it. You probably weren't, because no one is talking about this film, which is so low profile that it co-stars an Arquette sibling. ...I don't necessarily need to emphasize which one it is, seeing as how the thought that any Arquette is getting attention is mind-blowing, so it's really adding insult to injury when I say that, of all of those, like, twenty kids, it's Richmond we're talking about... something that I'd imagine has rarely, if ever been said before. Well, if this film delivered no other piece of relieving information to me, it's that Richmond Arquette is still alive, and that Australians can, in fact, get old. I've gotten so used to Aussies being the young, hip part of the world, probably because AC/DC have yet to figure out that they're too old to be frolicking about in schoolboy outfits, but lo and behold, here's an older Aussie... I think. Yeah, Paul Eenhoorn is himself so forgotten that it's even difficult to find his age, which is a shame, because the man's pretty talented, as is Ri... um, Richm... Richmo... Ricky Arquette (I already forgot his name; that's it, right?), though that's not to say that either man is skilled enough to make you ignore the jokes in the main character's last name-I mean, the flaws in this film, or at least the story limitations. First off, what really does a number on the bite of this drama is its simply being sort of simple, being a slice-of-life film that focuses on folks going about their business, dealing with conflicts that offer only so much unique meat, which isn't to say that this film doesn't, oddly enough, find some difficulty to its getting a grip on what focus it actually has. While this film's two sides of the story often meet, the leaps between the titular lead and the secondary Travis Holloway lead prove to be jarring at times, largely because the film has a tendency to spend too much time with either story. As if uneven focus isn't enough for you, the film also suffer from uneven pacing, running a startlingly short 83 minutes, and showing just how minimalist this subject matter is by still making time to feed excessive material with overlong dialogue sequences and expendable set piece, as well as excessive filler with draggy meditations upon nothing that I wasn't expecting. The film is ultimately aimless, having little to say and taking its sweet time to say it, and meandering so much that it sometimes really does feel like one of those questionably experimental slice-of-life art drama, complete with atmospheric dull spells. The film never loses its charm, but outside of that, there's very little kick, boasting a quiet dryness that exacerbates the sting of the slow spots, and sometimes incorporating too much atmospheric kick, to the point of overemphasizing themes in an unsubtle fashion (Christian themes; yes, that unsubtle) that is itself reflective of overambition. It seems that filmmaker Chad Hartigan wishes to carry this effort to height that it is simply too simple to achieve, and no matter how much Hartigan charms, uneven focus and pacing reflect shortcomings enough for the final product to be very much secured as underwhelming. Nevertheless, the effort endears, being too uneven and minimalist to be all that memorable, but still offering a good bit to enjoy, particularly on an aesthetic level. I know of this film's score composer, Keegan DeWitt, who always seemed to have some kind of a classical knowledge to musicality, yet all but chocked it out with indie pop-rock sensibilities, so with this project for DeWitt, I feared cheesy moments a whole lot more than what I ended up with: one of 2013's better scores, whose unique marriage of modern classical sensibilities and an somewhat contemporaneous ambience crafts a warmly whimsical soundtrack that is not only beautiful, but complimentary to the intelligence and heart of this bright and charming drama. DeWitt turns in a relatively outstanding score that features a style and quality that are rare in films of this type, but outside of the score, there is nothing all that special about this effort, whose story is even simple, even if it is simple in a charming way. At least in concept, before Chad Hartigan applies his meandering directorial stamp, this narrative is simple, but endearing, with a very human heart that goes punctuated by genuine dramatic depth, often done justice by the very execution that taints storytelling with questionable sensibilities. Hartigan's meditative and often uneven approach to his short but, if you will, sweet tale is messy at times, but it too endears, even when it comes to a scripting stage which offers thoughtful characterization, anchored by realistically clever dialogue and lightly colorful set pieces, and sold by a directorial performance by Hartigan whose hearty atmosphere proves to be warm enough to challenge dullness with all of the charm I've been going on and on about, if not a hint of resonance. If nothing else, the film is, of course, thoroughly charming, yet there are times where it is more than that, say, a moving portrait on human depth that may often be betrayed by ambition (Yeah, yeah, Christian faith guiding one through life, I get it), but also uses its overt heart relatively effectively at times, or at least seems to when carried by its lead performances. There's not a whole lot for leads Paul Eenhoorn and Richmond Arquette to work with here, but they deliver enough to pump a lot of life into this character drama, bonding over electric chemistry, on either side of which is individual charisma which adds a lot to charm, while the occasional effective dramatic note anchors the moving moments. Even the onscreen driving forces for this film carry a lot of heart to keep things going, and while I do ultimately wish that the story concept matched the quality of the execution, however flawed it may be, the final product is nothing if not enjoyable, at least while it still hangs in your memory. In closing, the simplicity of this story concept is made all the more glaring by an execution who unevenness in focus and pacing, - which is itself made all the more glaring by atmospheric dry spells - until you're left with a forgettable final product, but one that still endears, as there is still enough beauty and effectiveness to Keegan DeWitt's unique score, believability and heart to Chad Hartigan's writing and direction, and chemistry and charisma between Paul Eenhoorn's and Richmond Arquette's lead performances to make "This is Martin Bonner" an enjoyable and sometimes moving slice-of-life drama, even if it stand to have more weight. 2.5/5 - Fair
Cameron Johnson
Super Reviewer
This Is Martin Bonner Quotes
| | |
| --- | --- |
| Diana: | That's why I'm going into the library business. For the men. |
| | |
| --- | --- |
| Martin Bonner: | It wasn't funny then. |