This Is Spinal Tap
(1984)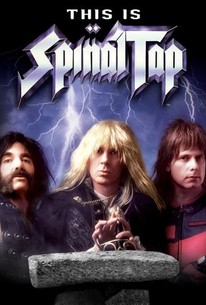 TOMATOMETER
AUDIENCE SCORE
Critic Consensus: Smartly directed, brilliantly acted, and packed with endlessly quotable moments, This Is Spinal Tap is an all-time comedy classic.
This Is Spinal Tap Videos
This Is Spinal Tap Photos
Movie Info
A spoof about a filmmaker making a documentary about a once-famous, now almost forgotten British heavy metal band returning to the United States after 17 years for a concert tour.
Critic Reviews for This Is Spinal Tap
Audience Reviews for This Is Spinal Tap
A truly priceless mockumentary filled with numerous hilarious moments that should make you laugh out loud until your belly hurts, relying on a deliciously ironic sense of humor that pokes fun at the rock-and-roll universe (the stars and also the fans) in an always intelligent way.
Carlos Magalhães
Super Reviewer
The best mocumentary ever made. A hilarious ride concerning a slowly desinigrating rock band. To think that some people took this seriously when it first came out is actually frighteningly believable, because the acting is that good. This is an effective satire on the rock and roll genre that features many gags that work effectively. A slim running time is actually ideal this kind of movie as well, Reiner cuts the risk of running the same joke over and over again for a long time period, instead this short running time works out perfectly that it doesn't go overboard into self-indulgence territory. Quite simply this is one of my favorite films and a movie that should not be missed.
Dan Schultz
Super Reviewer
Great for someone who loves rock music, like me. The film works because it feels like a legit documentary. Funny thing is, the music that this so called band makes is pretty good. Turn it up to 11 and enjoy some great satire. By the way, be prepared for a lot of dry humor.
Eric Shankle
Super Reviewer
This Is Spinal Tap Quotes
| | |
| --- | --- |
| Derek Smalls: | Rock and roll!!! |
| | |
| --- | --- |
| Marty DiBergi: | Do you feel that playing rock and roll music keeps you a child... that is, keeps you in a state of arrested development? |
| Derek Smalls: | No, no, no. I feel it's like, it's more like going, going to a national park or something, and there's... you know, they preserve the moose. And that's my childhood up there on stage is that moose, you know. |
| Marty DiBergi: | So when you're playing, you feel like a preserved moose onstage? |
| Derek Smalls: | Yeah. |
| | |
| --- | --- |
| David St. Hubbins: | "I think that the problem may have been that there was a Stonehenge monument on the stage that was in danger of being crushed by a dwarf. That tended to understate the hugeness of the object." |
| David St. Hubbins: | I think that the problem may have been that there was a Stonehenge monument on the stage that was in danger of being crushed by a dwarf. That tended to understate the hugeness of the object. |
| | |
| --- | --- |
| Morty the Mime: | Mime is money |
| Morty the Mime: | Mime is money. |