This Is the End
(2013)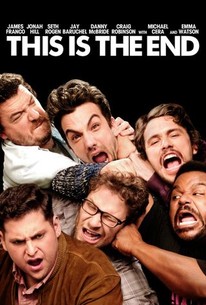 TOMATOMETER
AUDIENCE SCORE
Critic Consensus: Energetic, self-deprecating performances and enough guffaw-inducing humor make up for the flaws in This Is the End loosely written script.
Movie Info
The comedy This Is The End follows six friends trapped in a house after a series of strange and catastrophic events devastate Los Angeles. As the world unravels outside, dwindling supplies and cabin fever threaten to tear apart the friendships inside. Eventually, they are forced to leave the house, facing their fate and the true meaning of friendship and redemption. (c) Sony
Critic Reviews for This Is the End
Audience Reviews for This Is the End
Think about the premise (actors playing themselves and dying as themselves in an apocalyptic end of the world event) what you want: there is promise it in. But when you kill off the majority of the cameos right in the beginning and then have the usual suspects have the usual dialog in a rather bleak apartment situation over and over, things do get a little tiresome after a while. While the final twist is surprisingly optimistic, the Backstreet Boys dancing in heaven is a certain way to kill a film ending. Stupid.
½
This Is the End is a laugh riot. Has Seth Rogen ever been in a bad movie? His lowest rated movie per RottenTomatoes is The Watch (16%), but I thought that was a pretty funny and entertaining movie. I think The Green Hornet is the limpest of the bunch. If you are offended by that adjective, you definitely should NOT watch this movie as there are more male body/sex/potty jokes than I've encountered in any other movie in my lifetime (and I am old enough to remember Porky's). At face value, it seems like it would be pretty hard to screw this movie up with Seth Rogen, James Franco, Jonah Hill, Danny McBride, Michael Cera and a dozen others playing themselves during the Apocalypse. Even Rihanna and Harry Potter's Emma-freaking-Watson have extended cameos. There is one cameo that is so absurd and crazy that it would be a major spoiler to reveal it. Speaking of spoiler alerts, you'd think that the cause of the Apocalypse wouldn't be revealed, but that hasn't been the case. One reviewer mentions that it it is a literal interpretation of the Bible's Book of Revelations. You're at least 45 minutes into the movie before the reveal of what is really happening (unless you were raised reading the Bible. Then you get it pretty early on). Yeah, it's also a riff on the egocentricity of Hollywood celebrities, but who really cares unless you are an avid reader of TMZ or Perez Hilton. The real brilliance is in the dialogue, a ton of which has to be ad-lib/improv. There are so many jokes in this movie told in the context of the story it would fill a TV comedy series for multiple seasons. This is a two-hour comedy movie. Do they make any comedy movie that long? I just hope it has a Lord of the Rings-style Extended Edition on DVD.
Mark Beckford
Super Reviewer
½
funny enough, and the hilarious cameos certainly didn't hurt, but it's nowhere near as good as Neighbors.
Jason Robinson
Super Reviewer
This Is the End Quotes
| | |
| --- | --- |
| Jay Baruchel: | We just somehow have to prove our worthiness. |
| | |
| --- | --- |
| James Franco: | I always keep my props. |
| | |
| --- | --- |
| Craig Robinson: | Welcome to Heaven motherfuckers. |
| | |
| --- | --- |
| Danny McBride: | His face looks like the police sketch of a fucking rapist. |
| Jay Baruchel: | What the fuck does that mean? |